The last two years have been about building an established SEO department at Evoluted, an ambitious Sheffield-based digital agency.
Since Declan Reilly joined as Head of SEO, he focused on creating the processes and choosing the tools to accomplish that. Or, as he puts it, "we needed a platform that we can grow with."
So the next natural step was identifying a core SEO tool that would answer the team's requirements. For it was a joint effort, as Declan explains: "We did get everyone involved, which was quite nice because it means that everyone's behind the decision."
"We gave everybody something to focus on", Jen Penaluna, Evoluted's Senior SEO Strategist adds, explaining how each member of the team analyzed specific functionalities to better compare the 4 tools they were considering.
That's how their in-depth journey with SEOmonitor started.
The decision matrix
hat was important for Evoluted was choosing the tool that would enable them to manage SEO clients in a more complete, efficient, and time-saving manner.
To make the comparison process and the team aligned, they developed a decision matrix, following specific features that would tick all the boxes for the mission above, marking them with scores from 1 to 5.
In Evoluted's words, the following aspects were critical when assessing potential solutions:
Keyword tracking — "How well does the SEO tool do the pure keyword tracking? How accurate is it?"
Grouping and tagging — "We have complex campaigns, so keywords can get lengthy if you can't organize them and tag them in the right way. That was important for us from the start."
Keyword research — "We considered it an added benefit if the tool could allow us to research what keywords to track."
Competitor analysis — "This was another big aspect: being able to showcase to our clients where their competitors ranked and also just view it for ourselves to see where the opportunities are."
Proposal assistance for creating a business case — a reliable SEO forecasting feature integrated into the tool
Migration ease
Training / support — "Are we getting the right support to enable us to get the most out of the platform? Is there going to be someone that we set up a meeting with or live chat available?"
Integrations — "Could the data be taken out of the platform and integrated with other tools like Data Studio, which we're planning to use more of? How can we integrate the data into our monthly reporting process?"
Scalability and cost — "There are tools that charge based on the number of queries you do and other similar things. It can get quite messy in terms of cost. So that was quite an important aspect that we wanted to consider."
With a strict evaluation grid in place, the agency knew what to look for and how to test each element.
The team then carried the research out over a period of 2 weeks, with various demos from tool providers. That's when SEOmonitor stood out as an SEO platform designed with agencies in mind.
SEOmonitor's added value for an SEO agency
"SEOmonitor working with agencies stood out to us when we were doing the demo call and the account manager understood all our pain points and work requirements", Evoluted' Senior SEO Strategist remembers. "We've been through this experience before and there were functionalities in those demo calls that we couldn't find a use case for. Whereas your demo felt like the tool was a lot more tried and tested for agencies."
But, of course, apart from the focus on SEO agencies and their needs, it was still a question of the rank tracker's efficiency.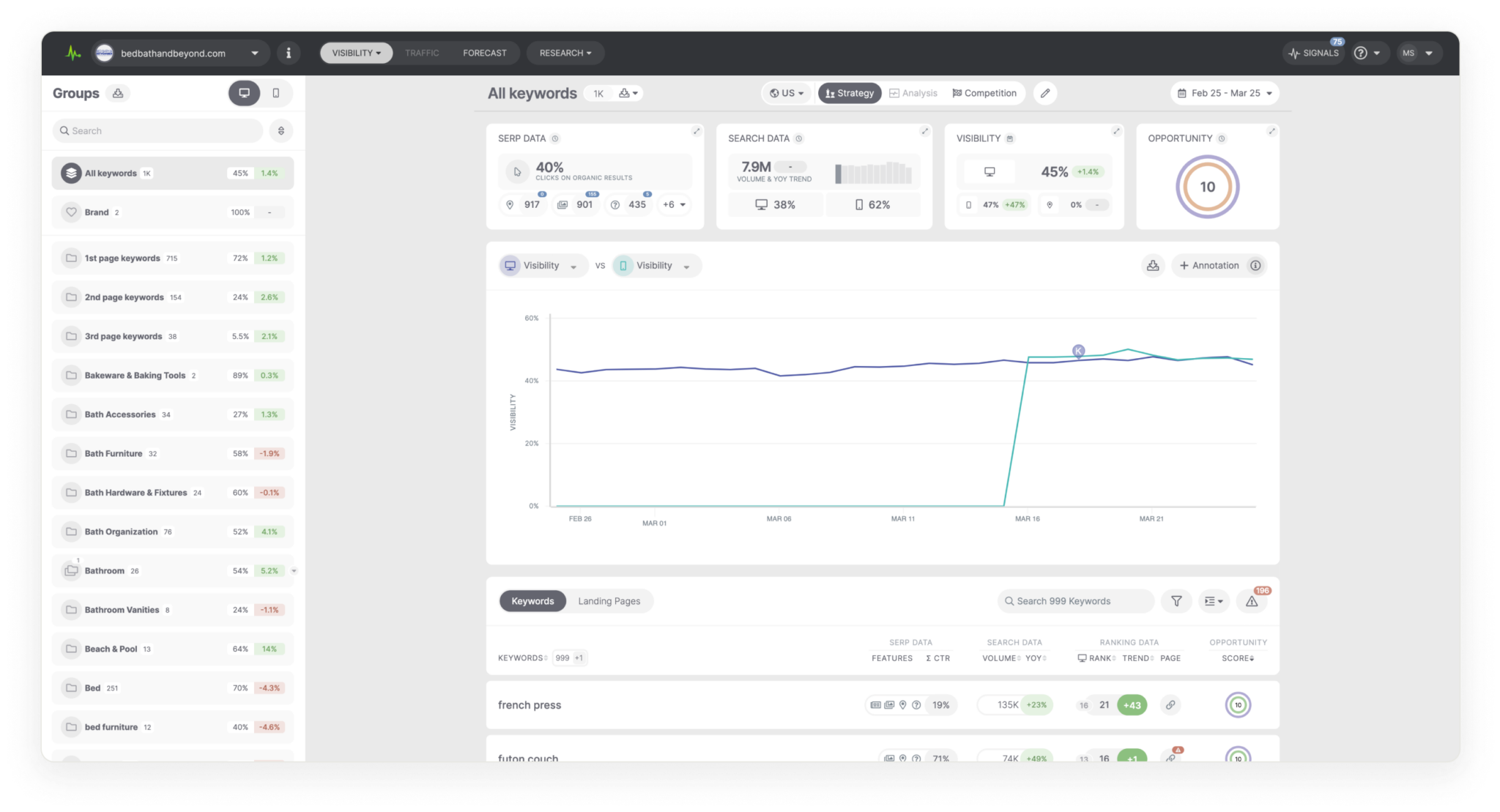 Daily ranks for mobile and desktop — the granularity Evoluted needed
With their previous rank tracker, Evoluted lacked the data granularity they were looking for so that they could correlate traffic drops or gains with the right insights, whether algorithm updates, other external events, or performance challenges.
"Daily keyword tracking was definitely something we considered quite heavily so that we can pinpoint things when needed. I think it's really important to at least have the data available to you. Not being aware of what the change was between a Monday and a Wednesday, for example, feels like you're missing the full picture. Let's say you have a client with 1000 sessions per day and then that drops to 800, which is unusual, you need to be able to explore and pinpoint the traffic change to that specific day", Declan says.
Not just that, but with SEOmonitor's daily ranks for mobile and desktop as standard, they could spot a technical issue and intervene fast.
On top of performance issues
Because of the ability to look at overall visibility across campaigns and then across particular keyword groups, the team spotted a particular set of rankings going down that their crawling tool hadn't picked up on because it wasn't linked anywhere.
The client was a fitness course provider, with a primary UK site and also an Irish site with a physical presence there. The agency had been working on a template update, primarily with the UK site in mind. This rolled out to both sites and changed the URL structure of a location-section on the Irish site which they hadn't anticipated changing.
"We noticed from the keyword grouping that the location group of terms saw a noticeable decrease so quickly investigated and realized the UK template rollout had also updated the Irish template, therefore updating the URLs for which there weren't redirects prepared.", Jen recalls.
"We would have missed that, honestly, if it wasn't for SEOmonitor and us spotting that massive rank drop. We were able to jump on this quickly to implement the redirects and even managed to increase the rankings from their previous positions."
Every keyword accounted for
Jen Penaluna explains that usually the team doesn't get bogged down with a specific keyword. Yet, there was a case for a client where an important keyword, driving a lot of traffic in the previous year, started going down.
"This year it's slowly been recovering, made page one and it's been consistent. So it's nice to go into the rank tracker and see each day that it's not dropped out again.", she adds.
"I find SEOmonitor quite useful for that. We're on top of things throughout the month. Just as with the cannibalization feature. For this case just mentioned, we changed the URL and Google didn't pick up on the redirect for ages. The old URL was still ranking. When it did start to pick up the new URL, it showed up in the cannibalization board that it used to be this URL ranking. It's now the new one and it's doing better. So I've pinpointed it because I've been in there every day."
For this case, it was the page that Evoluted was aiming for. Yet, the cannibalization feature together with being able to set the desired landing page for a specific keyword continues to help the agency when answering such questions as Why might that page be ranking instead of this one? and What can we do about it?
Groups and tags for more efficiency
As Jen Penaluna highlights, she was in charge of evaluating the keyword management section, especially as she cared deeply about grouping and tagging as an efficient way to organize an SEO campaign.
SEOmonitor's three levels of grouping passed the test:
"I do have a group of colleges as a client where there are lots of categories, as there are different courses they offer and obviously a lot of different keywords and variations within each course. So it's really useful to go and check a specific group, say accounting is up, but childcare is down. Then dig further and see why childcare is down. Rather than a here are all of these keywords approach, where you have to figure out what's going on while looking through all of them. That's something SEOmonitor got right and it was really important to us."
In the end, as Evoluted explains, it boils down to being able to do your work with increased efficiency and know which area is doing better and which has issues:
"You're not just looking at overall numbers and then scrolling through a huge keyword list. It's really easy to keep organized. I also appreciate that you annotate algorithm updates and when new keywords are added, for instance, so we understand why the data looks a certain way. It's useful to look back and know why something changed.
The scalability factor
When asked about the main aspect that sealed the deal with SEOmonitor, Declan returned to scalability: "the key factor in my decision-making overall. If it wasn't for that, it might not have worked for us. Even if it was great on all the other aspects, as it was really accurate and we had the daily tracking, if it meant having to pay ridiculous amounts for adding new campaigns or adding new members, then it might just not have been feasible."

With Evoluted's plans in sight, scalability meant a good value for price and being able to account for future agency growth. That's why SEOmonitor's dynamic pricing made a significant difference — an agency pays only for what resources it uses on a monthly basis. No waste of unused keywords and no fixed plans involved.

Ease of use and support availability also made the top 3 highlights, further adding nuance to that scalability factor: "The training and other support aspects have been really impressive since I've come on board and I've also heard from plenty of other people using the tool really good feedback about that side of things."

From the migration phase, the customer support team helped Evoluted ease the transition, as Declan explains: "The transition wasn't a simple one – not through any fault of SEOmonitor, but because our previous platform did not provide us with the historical data required for a smooth import!

The bespoke support we were given through achieving a successful migration was really encouraging for me as it gave me faith in the technical credentials and communication skills of the SEOmonitor team."

In the end, SEOmonitor proved to be the right choice for Evoluted, as the agency's objective to expand their SEO team and client portfolio can be fully supported.

Template part has been deleted or is unavailable: comments