Research Massive Lists Without Cost Limits
Catch close variants, capture surges with seasonal tags, and auto-group keywords with AI.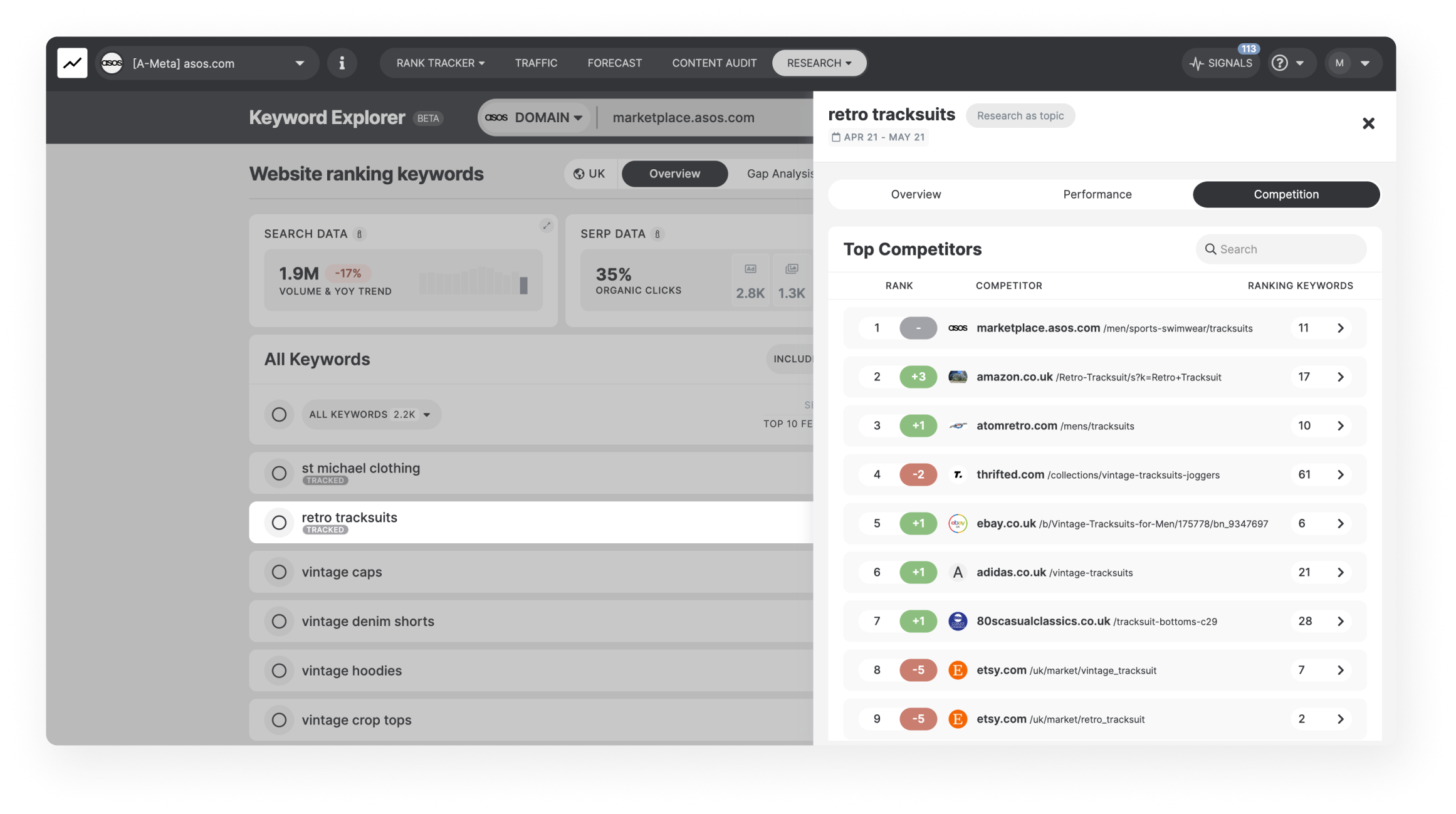 Carefully curated keywords
Our platform automatically removes low search volume keywords, aggregates close variations, segments brand and non-brand, and more. So you get only the best keywords for your tracked website.
The brand/non-brand segmentation.
The only SEO traffic you can directly impact is the non-brand organic traffic. The platform automatically segments it.
Year-over-Year search trends.
When averages fail.
Don't get misled by search volumes. See the full story of your keywords with 12-month search averages and Year-over-Year trends side by side.
The Website Explorer
Analyze all the ranking data of any domain you need. See the associated keyword list and their main attributes. Look at the Keyword Gap and evaluate the competition. With unlimited access
Domain overview.
Discover the number of ranking keywords for any domain you need and see what the keyword gap is. For the US and UK markets, get additional curated data for non-brand keywords, their search volumes, seasonality, Visibility, and more. Updated monthly, so you're always getting fresh data.
Keyword Gap analysis.
Look at overlapping and non-overlapping keywords for specific domains. Know how your competitors perform. Enriched with search volumes, search trends, and Visibility data for the US and UK markets. Decide which to track.
A powerful keyword list.
Analyze each keyword next to your competition. Filter your list by search volume, estimated traffic or the overlapping/non-overlapping status.
Large exports available.
You can export the top 50.000 ranking keywords of any website for the UK and US markets, and the top 1.000 for the rest of the markets.
The Keyword Vault
Add a list of as many keywords as you wish. Get SERP, search volume and ranking data for all of them. Keep the list to get monthly updates.
Get monthly updated ranks for your website
Get a monthly snapshot of your keywords for the first 100 ranks on desktop. Just import a CSV file or add the manually and SEOmonitor will process them.
All competitors tracked
Discover top competitors by Visibility for all your tracked keywords or specific keyword groups. We automatically identify all of them from the start. You choose the ones you want to focus on.
The Keyword Explorer
Research topics, websites, or URLs without restrictions. Analyze based on search and SERP data. See the main competitors with their ranking data and Visibility. Download the targeted keyword list.
No misleading keywords.
SEOmonitor's error-proof systems automatically exclude very low search volume keywords, detect and label misspellings, irrelevant and highly localized keywords, and more.
Google Ads Search Volumes. Made reliable.
Google Ads Search Volume data meets SEOmonitor's calibration systems for SEO-ready insights. With the aggregated close variations, you won't get any duplicates.