Scale your agency without losing control.
Track your reports, set custom alerts, and manage client health.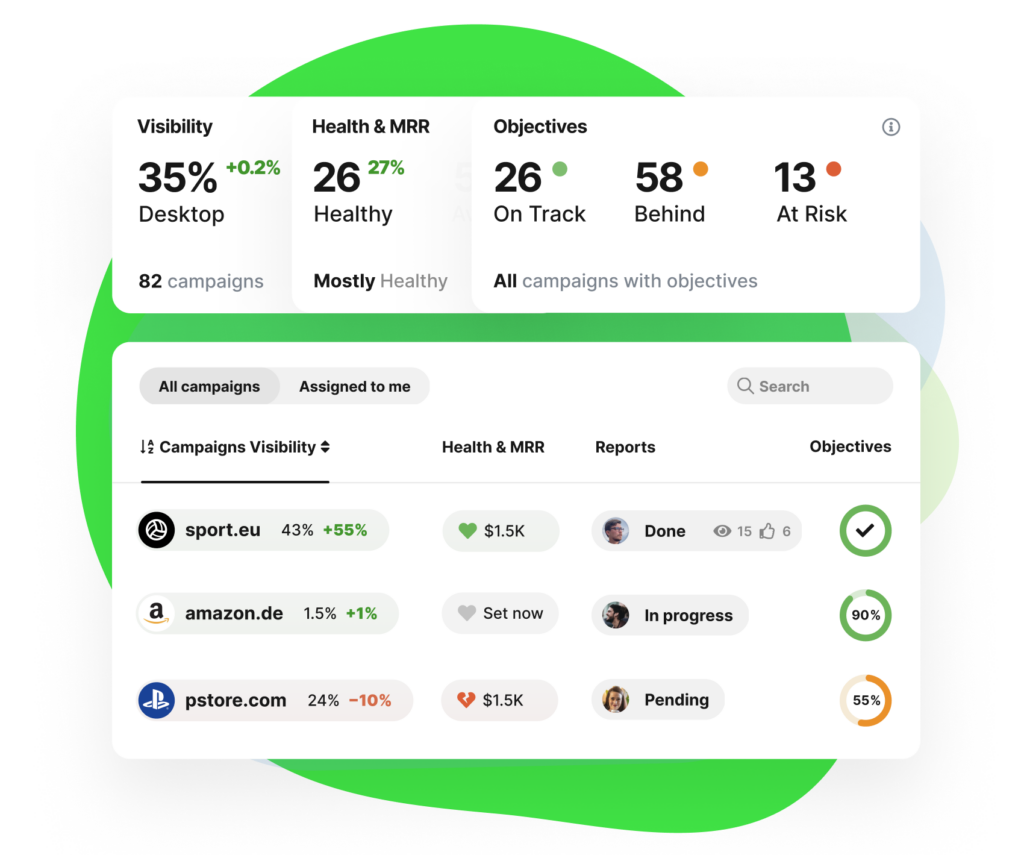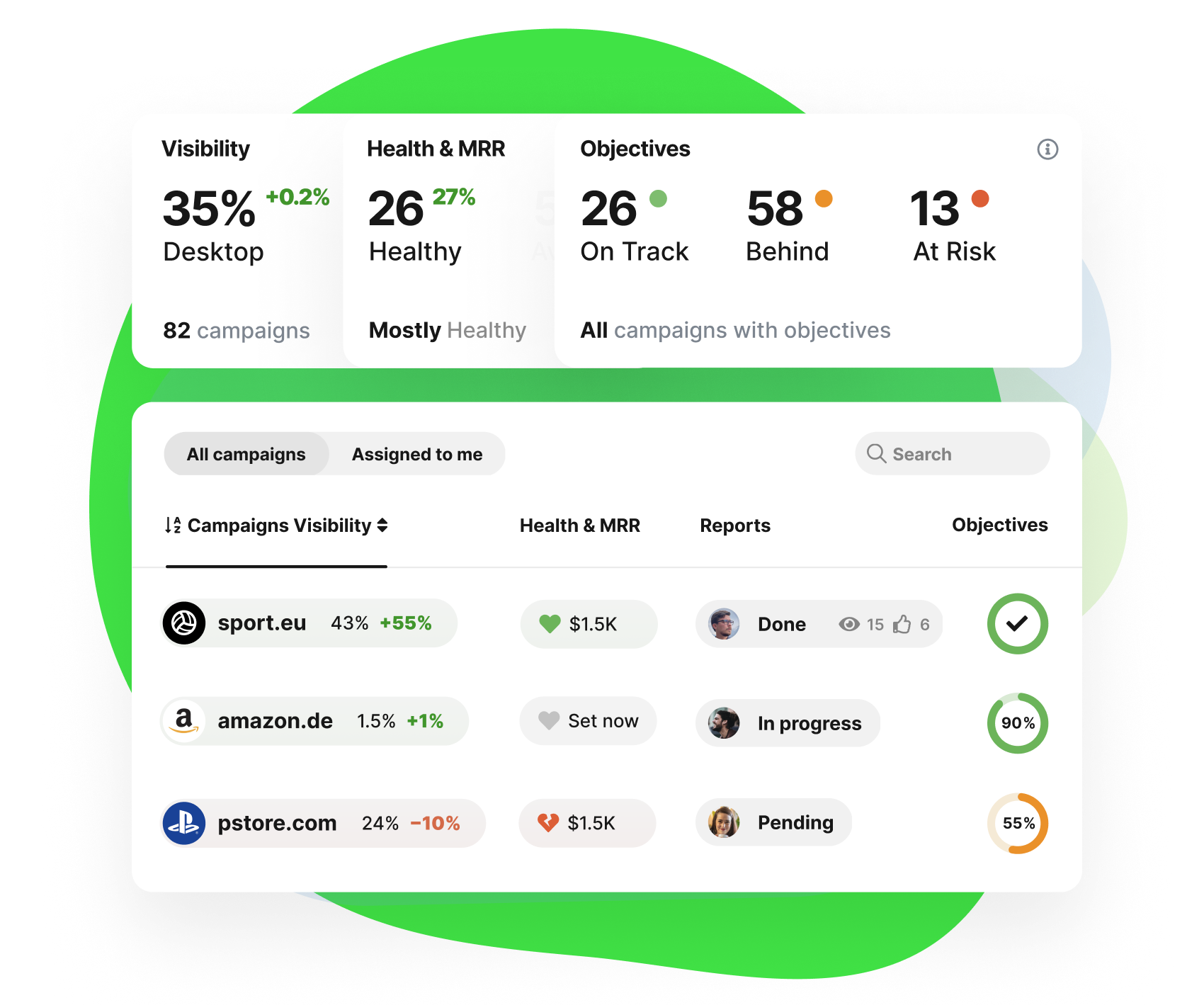 Your key questions answered. At a glance.
See the SEO objectives and portfolio Visibility status. Look at Visibility and MRR trends for every campaign. Understand business health and what's next. Discover reporting trends.
Check overall visibility.
Look at the Overall Visibility of your client portfolio. See it blended or for each device. Choose between 7 or 30 days. Understand how its trend changes in time or after an important Google algorithm update.
Track overall client health.
Set business health benchmarks and know the state of all your clients by MRR or campaign status. Discover the average and poor ones in due time.
Track SEO objectives.
Once you've set your objectives in the SEO Forecast product, you can see their status across the portfolio. You'll know which campaigns are on track, behind, or at risk. So you can plan your next steps fast.
See the reporting status.
Easily understand the state of your monthly reports across your portfolio. See if you have any overdue and what's the overall client feedback.
Reporting made easy.
Manage all your reports in one place. Know who's responsible. Get client feedback and measure their engagement. Check Signals Insights for latest wins. Or issues.
On time Reports.
Know when a report is due for each campaign you're managing. Easily create one with our Google Slides integration. Or update your own. Never miss a monthly report!
Account management.
Look at the reporting status of each account manager as you need it. Know when they're online for faster feedback. Quickly change a campaign's account manager.
Client engagement and sentiment analysis.
Analyze client engagement for every monthly report. See how many times they opened the document and where they spent most time. Understand their appreciation, likes and dislikes.
Insights first.
Discover new campaign insights quickly. Save and share wins with your team and client. Spot issues and comment on next steps.
Retention measured.
Track Client Health across your portfolio. Set the Health thresholds you need. Get the pulse of every campaign and alerts whenever something changes. Know the trends.
MRR & Health check.
See the status of every campaign by MRR and Health. Understand it with our sidebar breakdown: Objective status, Visibility trend, Report feedback, and Year-over-Year search trend. Deep-dive into each metric.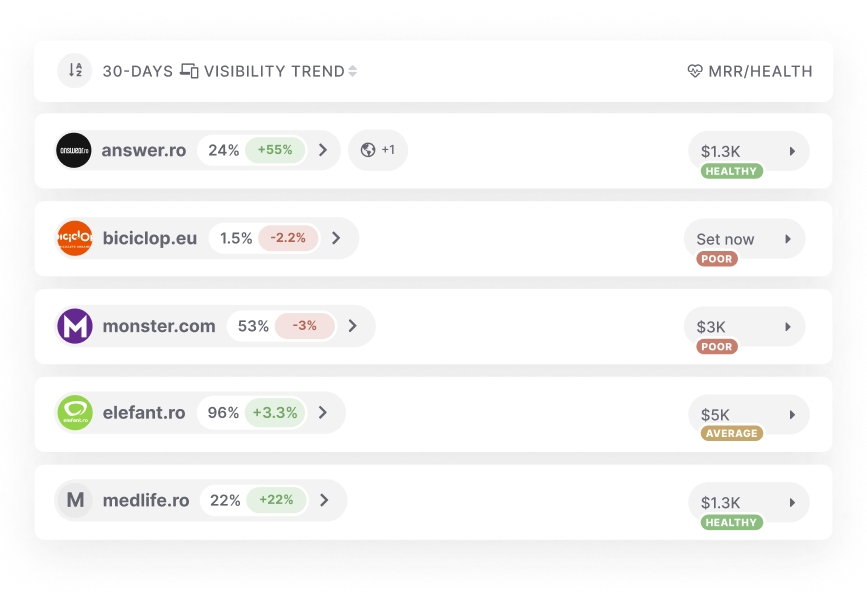 Client Health explained.
You set the Health treshholds, we keep you updated. Set percentage limits for every critical metric — Objective Value, 30-day Visibility trend, and Year-over-Year search trend.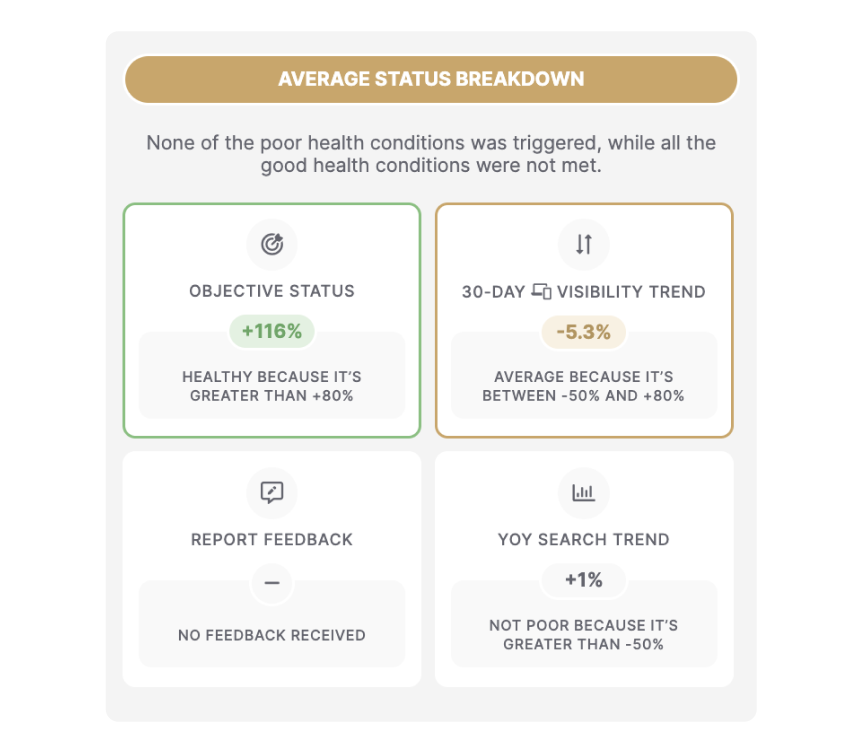 Email alerts.
See when a client's health status changed directly in your inbox. Set alerts for your campaigns or all agency campaigns.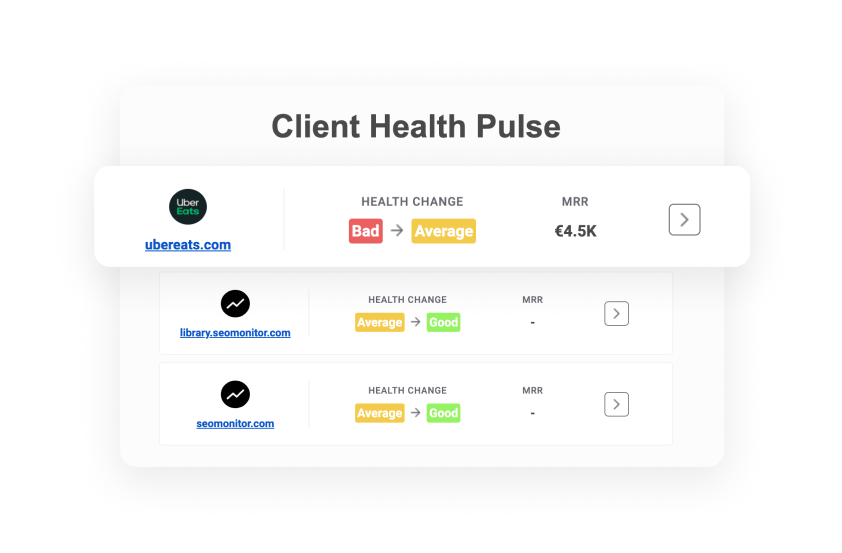 Custom views.
See the campaigns you're in charge of. Check pitching campaigns. Filter your dashboard data by campaign, health, reporting attributes.
Campaign workspace.
Check your campaigns or look at the status across the agency. Easily switch between regular or pitching campaigns. Focus on what you need, every day.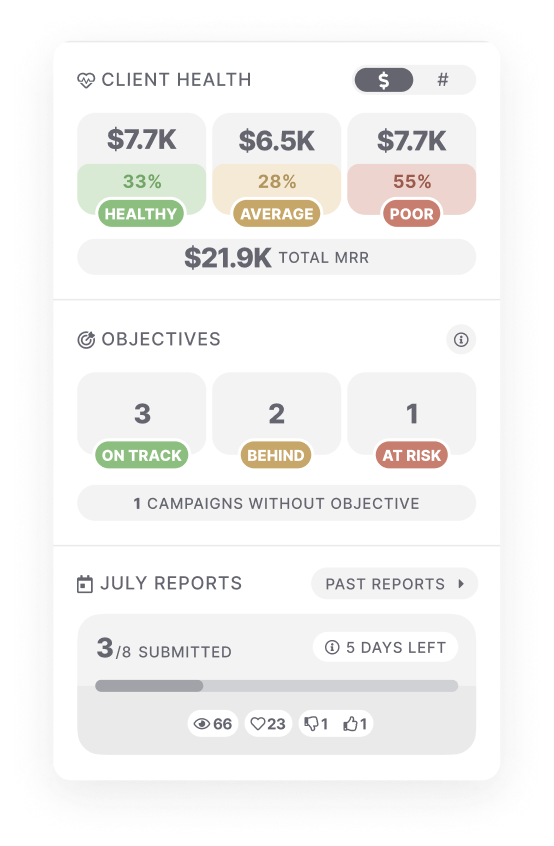 Enhanced filtering capabilities.
Filter your agency dashboard data for more insights. See status by Campaign, Health, Report, or Objective attributes. Customize the view according to your current needs.