Forecast SEO without the human error.
Get rid of error-prone spreadsheets, unreliable data and hard-to-maintain formulas.
CTRs based on SERPs ⚬ Transparent algorithm ⚬ Only 99€ / month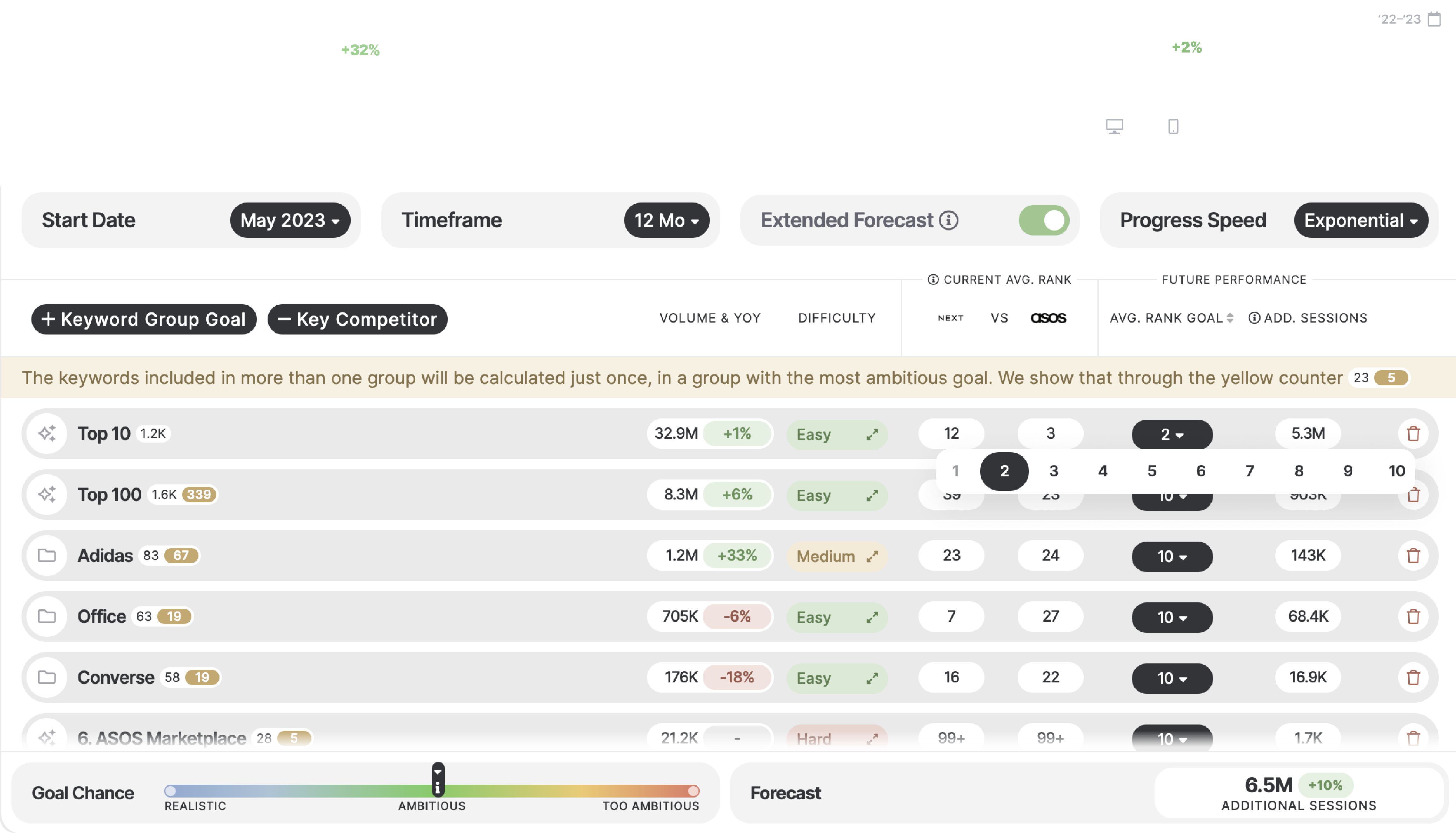 Trusted by agencies and in-house teams worldwide

Simple to use — a forecast in 5 minutes
Choose your keywords, select your ranking goals and get estimated sessions & conversions instantly.
1. Add your keywords
Add your list of keywords or research them with SEOmonitor.
2. Build the scenario
Select ranking goals and timeframe for your forecast.
3. See the forecast
Get an estimate of the sessions and conversions you'd generate if your keywords reach those rankings.
Accurate inputs = accurate forecasts
Eliminate faulty estimates caused by a single CTR curve for all keywords and devices, or duplicated search volumes for close variants.
A precise CTR curve
Based on a research on 4M keywords enriched with SERP features and their positions from our rank tracker, and also impressions, clicks, and average positions from Google Search Console.
Segmented by device
Considers how many searches are done on mobile devices and applies their corresponding CTRs. This generates an estimate for mobile clicks and another for desktop ones.
Error-free search volumes
On top of considering search seasonality and YoY trends, we aggregate close variants to avoid duplicated search volumes.
Transparent when you need it to be
See exactly what's behind the algorithm with the keyword breakdown.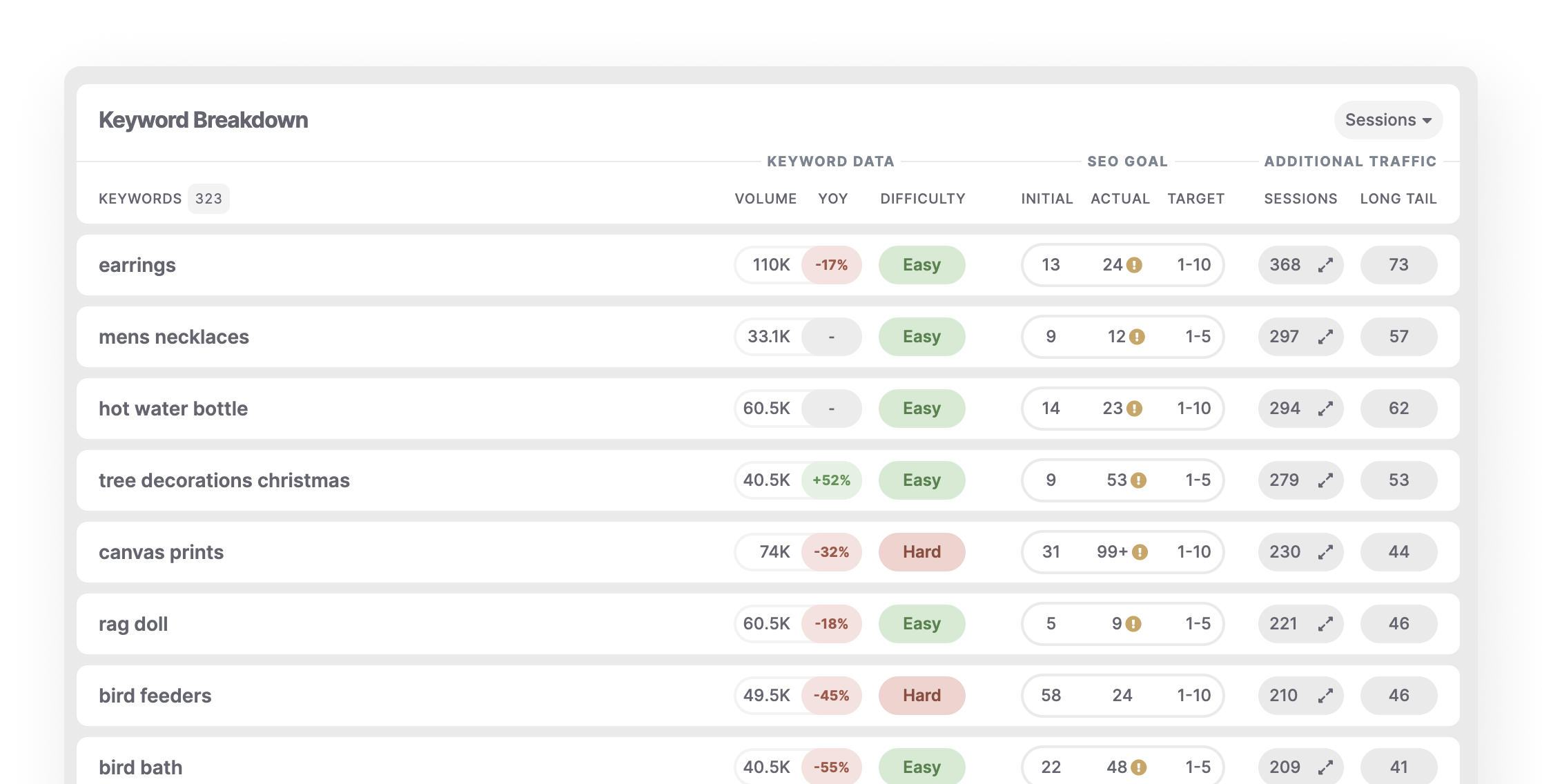 An innovative chance indicator
With a re-imagined and personalised Keyword Difficulty, SEOmonitor identifies how likely is it to reach your ranking goals and how big of an impact they'd have. The Keyword Difficulty takes into account Topical Authority, Content focus and Current rank for each keyword to work out how hard would it be to reach the top 10 positions.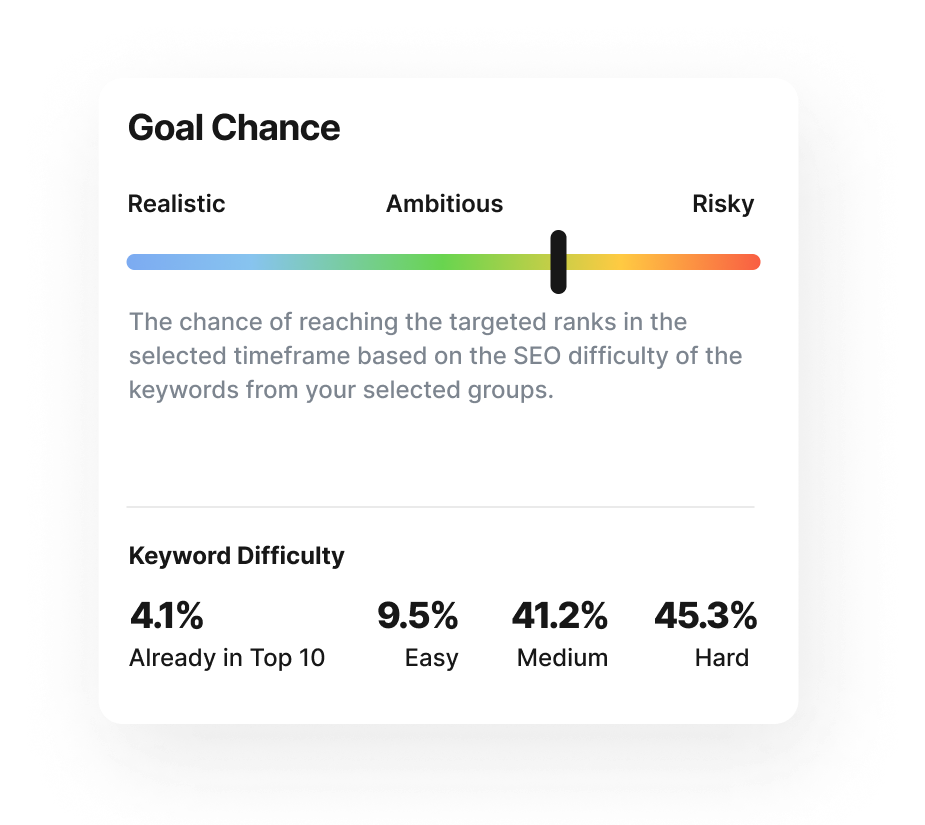 Before SEOmonitor
One average CTR for your all keywords.
In-house forecasting models with data scattered around.
Taking hours to gather keyword data into your spreadsheets.
Duplicated search volumes inflate the overall estimates.
Double-check and triple-check if the formulas still work.
After SEOmonitor
A custom CTR curve for each combination of SERP features and devices.
A single forecasting model for the entire team, all the time.
All keyword data available in the platform.
Automatic aggregation for close variations.
Same formulas, same calculations all the time.
Designed for your agency
Simple enough to hand it to a sales team, detailed enough that it'll satisfy the Head of SEO.
Sales teams
Create accurate, data-driven SEO forecasts in a matter of minutes.
CEOs and Founders
Build an efficient, reliable and repeatable process for new business.
SEO teams
Aligned by the chance indicator in terms of what's possible or what's not.
"
When we show up at a pitch and we are the only ones with this level of forecasting, we win.

"
The client said we were the first agency that committed to showing what we could do for their business. That was a defining factor in getting them to sign with us.

Dave Nillson
CEO ConvertedClick
Get inspired by real pitching decks from agencies using SEO forecasting for sales
See how SEOmonitor compares to other SEO forecasting tools
Ditch the spreadsheets!
Start a three-month free trial
Only €99 / month after