At Semetrical, a multi-award winning digital marketing agency based in central London, the Organic Marketing team led by Benjamin Beckwith had a clear mission: scale efficiently and bring in new clients regularly.
Yet, cost-effectiveness became a pressing matter as they started achieving their growth objectives. Or, as Benjamin puts it: "The main problem we were trying to solve was reducing our costs while scaling. That's what initially triggered us to look at alternatives in the market."
As we wanted to know more about their journey from that first trigger, we talked with Benjamin and Heemesh Vara, the agency's Head of SEO, to find out why they chose SEOmonitor in the end.
More insights with daily ranks for desktop and mobile as standard
Cost efficiency is critical on multiple levels, the team explains: "We don't want to choose between desktop and mobile. We want to be able to track both for clients because they can give us different views." Plus, for large keyword research projects, the costs would spiral.
But most solutions on the market would charge separate credits for each device.
"Another issue we found was the time it took to get ranking updates. Especially when we had time-sensitive analyses to do for our clients, it became quite frustrating to wait for the data to come through.", Heemesh adds.
With SEOmonitor's cost policy of desktop and mobile ranks as standard and a 24 hours SLA, Semetrical found what they needed from their new rank tracker.
And that was just the start.
Pitching campaigns included
Another key factor was the pitching aspect in SEOmonitor.
The agency needed to keep on top of market shifts while controlling resources for leads and existing clients in industries with large datasets.
For instance, there's a property management client where the agency needs to monitor different property types across different locations, which means large volumes of navigational and transactional terms.
"What we need to do is take a sample from each property type and each location or level. So we can see if there's movement and react. We can also compare them to a pre-determined set of competitors for different property types."
SEOmonitor's pitching campaign feature comes in handy, with a one-day crawl at no extra cost.
A powerful forecasting functionality
Clients want an indication of what kind of traffic they can gain and what revenue they can expect, so that's always a challenge for SEO agencies.
Semetrical has been doing that sort of forecasting manually and even built its own CTR models to make it more relatable.
So, as they say, SEOmonitor's forecasting solution was a powerful advantage that they weren't looking for but were glad to discover: "If you tag keywords appropriately, you can forecast based on different tagging groups, which is important. You also provide average target positions like 1 to 3, 1 to 5, etc. That makes it more realistic. And it helps our sales team if they want to just quickly try a form of forecast and present it to a lead. It's quite powerful."
The visualization aspect is a bonus. "We've used your Google Slides integration for forecasting recently with a US client in the e-commerce space. As most of our pitches and presentations are on Slides, we could easily include the slide with estimates and show them their growth potential."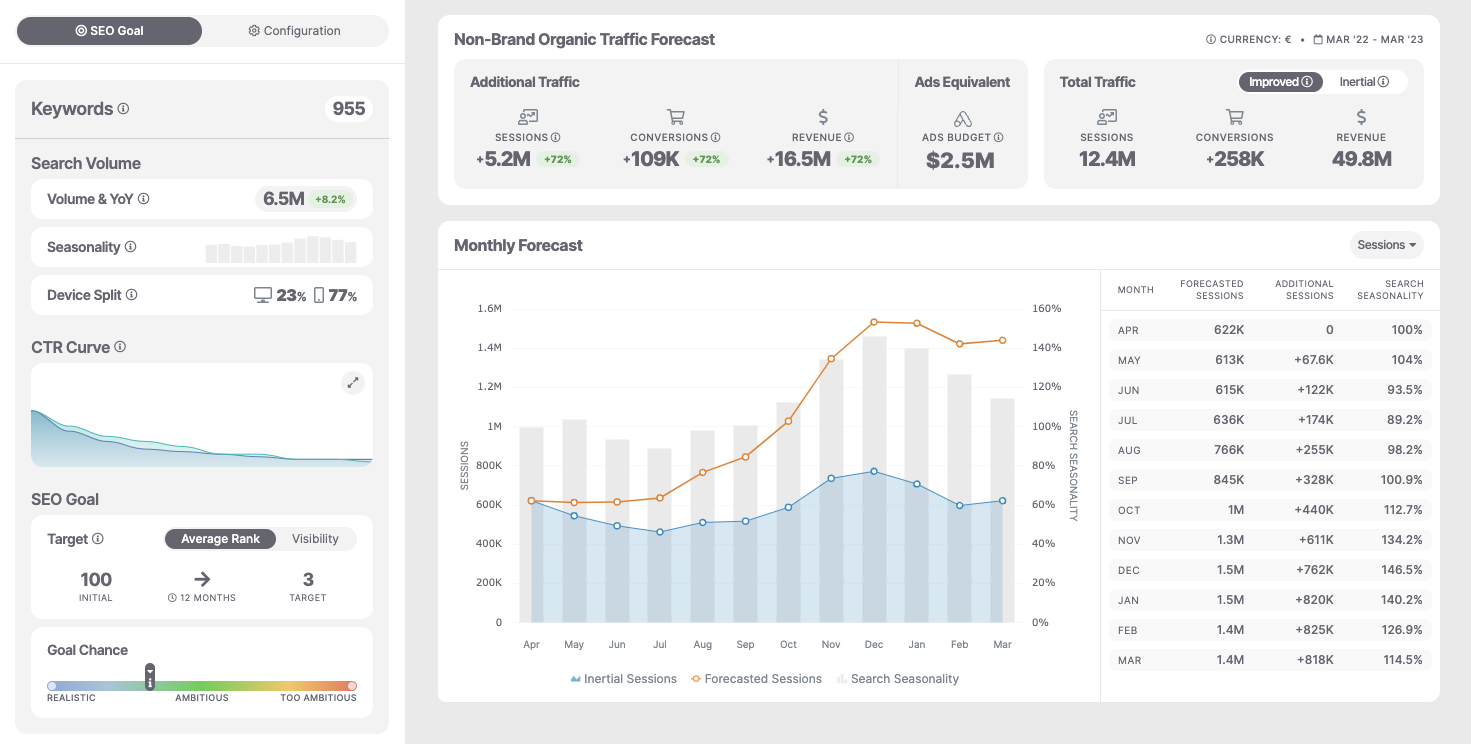 The top results analysis
"The Top 20 SERP report is baked into our internal scripts, for example. We rely heavily on it for our SERP and competitor analyses to understand who's ranking where, what type of templates are ranking, and which competitors are consistently performing across different keyword clusters.", Ben adds.
Because SEOmonitor stores the Top 100 websites ranking for the user's tracked keywords, on a daily basis, the agency can access the Top 20 websites ranking for a given keyword in a cluster.

"We can utilize that data to figure out what our next step is. Is it a blog article that we need to rank for a given keyword or is it a product page or maybe a category page? It's probably one of the most important reports that we're using for any new client, as well as pre-existing clients, when we're figuring out the strategy for a specific keyword cluster" But having the right data is not enough if it's not easily accessible.
API, Search Console, and Data Studio integrations for consolidated reports
Getting the data out of the tool was another scaling aspect Semetrical evaluated from the start.
Together with the Analytics team, the agency made sure that they had the right access to both API and the Data Studio integration to seamlessly transition to what they usually provide to their clients without losing cost efficiency.
Due to SEOmonitor's flexible pricing policy, including unlimited API or Data Studio connectors' access, the agency could continue developing their bespoke reports:
"We were looking for that flexibility. This allows us to create one central report with Google Analytics, Search Console, ranking, and backlink data. We might also create bespoke segments to showcase optimized URLs and their trends, and so on."
This centralized report is something the team is still working on, so that they can showcase their results to clients in one consolidated place.
"There's also the solution to the not provided. That will definitely be useful because it's a gold mine of data, which we wouldn't have gotten before. And we can easily see the effect of an improvement in performance for particular keywords or if it has any effects at all.", as Heemesh highlights.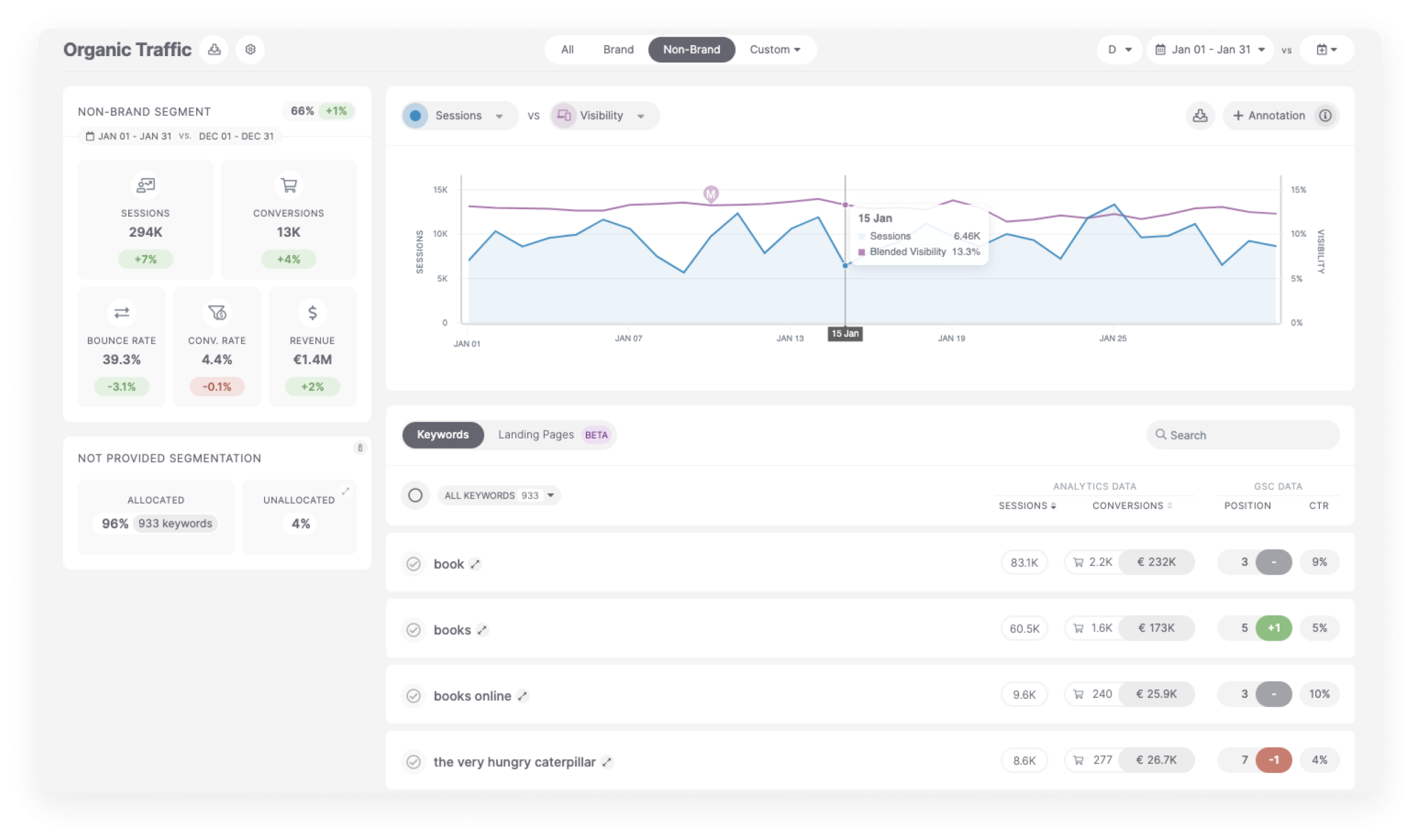 Automated labels and groups
"We were planning to build a quick tool ourselves to spot seasonal keywords", Ben and Heemesh explain.
Being able to plan content ahead of time and spread that effort over the year is something critical for an SEO campaign. That's why SEOmonitor's automated labels for keywords getting in and out of season helps with pre-planning and efficiency in leveraging search demand for a client.
"You've got some clever automated groupings that can help people identify quick wins or opportunities as well", they recall. It's something that SEOmonitor calls smart groups — filtered keyword groups that automatically refresh when the specified conditions are met.
Dedicated account manager and training
Onboarding the whole team in a new tool can be a daunting task. Ben and Heemesh say they didn't have a dedicated account manager before, so that's something highly appreciated.

"Training has been great and I'm sure if we needed more training sessions, you would be more than happy to assist."

In the end, Semetrical discovered a rank tracker designed with agencies in mind, with "great customer support for training the team and a clean, user-friendly interface" having all the relevant data to leverage their SEO performance.

Template part has been deleted or is unavailable: comments