Affordable, Accurate Rank Tracking
See all SERP features, get all competitor data, and detect landing page issues.
Just €29.9 per 1,000 keywords on both devices.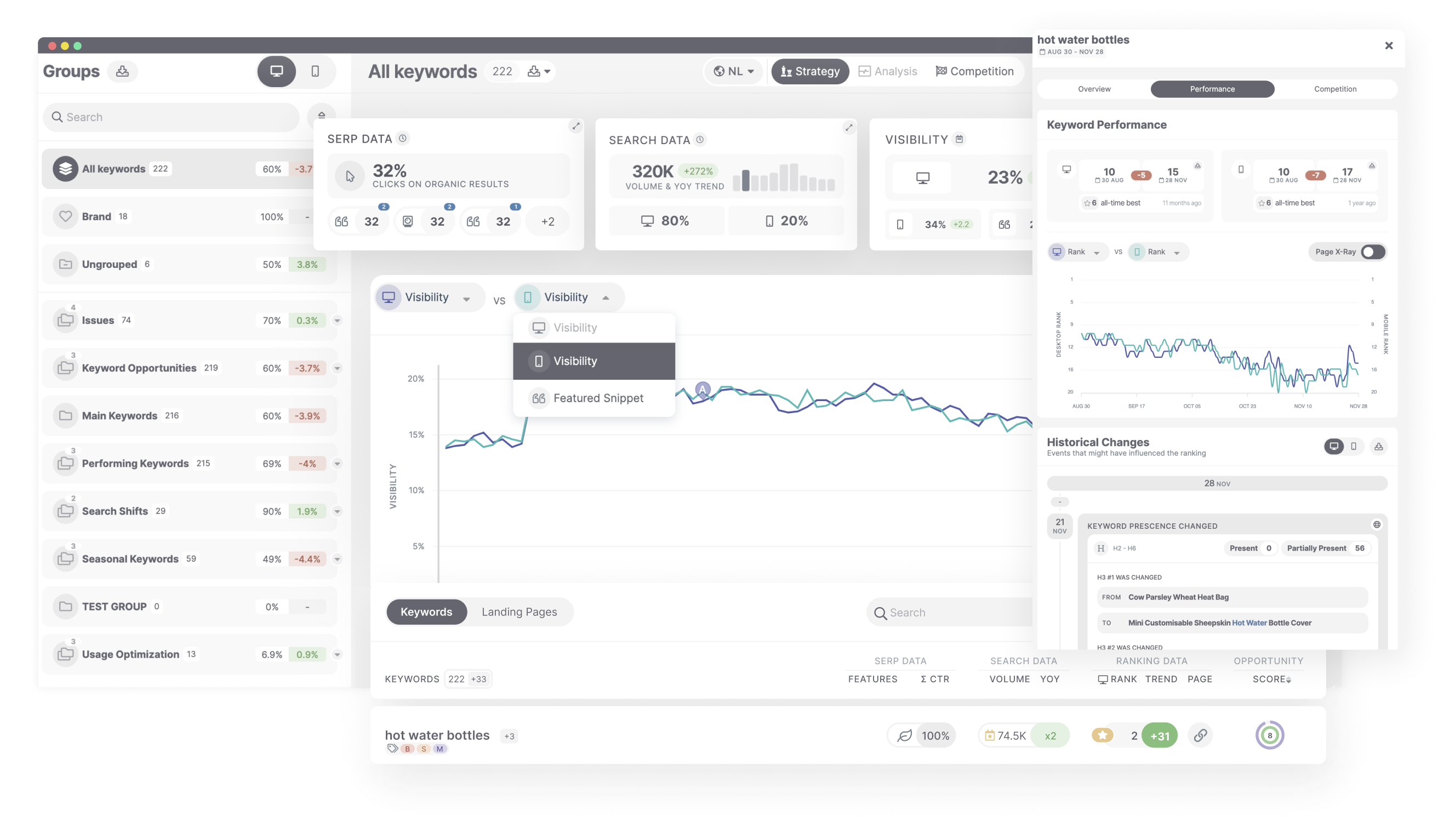 Accurate data first.
Get daily ranks for mobile and desktop no later than 8 AM — as standard. From anywhere in the world. With calibration and error-proof systems in place for more accuracy.
Google Ads Search Volumes. Made reliable.
Google Ads search data wasn't designed for SEO usage. We've fixed that. With the aggregation of close variations, you can trust the search volume you see. We update all keywords with monthly search data as soon as Google releases it.
Error-proof systems.
With a fail-safe rank tracking system in place, we make sure that no anomaly slips in what you see. Automatic detection and frequent manual check-ups support the accuracy of the ranking data.
Broad or narrow. Keyword data from anywhere.
Choose the level of targeting you need for your SEO campaign — global, country, region, or any city. Easily set the desired language for multilingual countries. Create multi-location campaigns and manage it all in one place.
Our standard. Your advantage.
There's no need to give up data granularity for cost-efficiency. Get daily fresh ranks, together with SERP feature data, and the Top 100 ranking pages for your tracked keywords.
Reliable keyword attributes.
Understand every keyword opportunity you have. Get reliable Search Volumes calibrated by Year-over-Year trends and the SERP features' impact on top of ranking data.
Year-over-Year Search Trends. When averages fail.
Discover shifting trends across your campaigns. Know what keywords are exploding or tanking when others don't. Adjust your search volume analysis with the Year-over-Year data.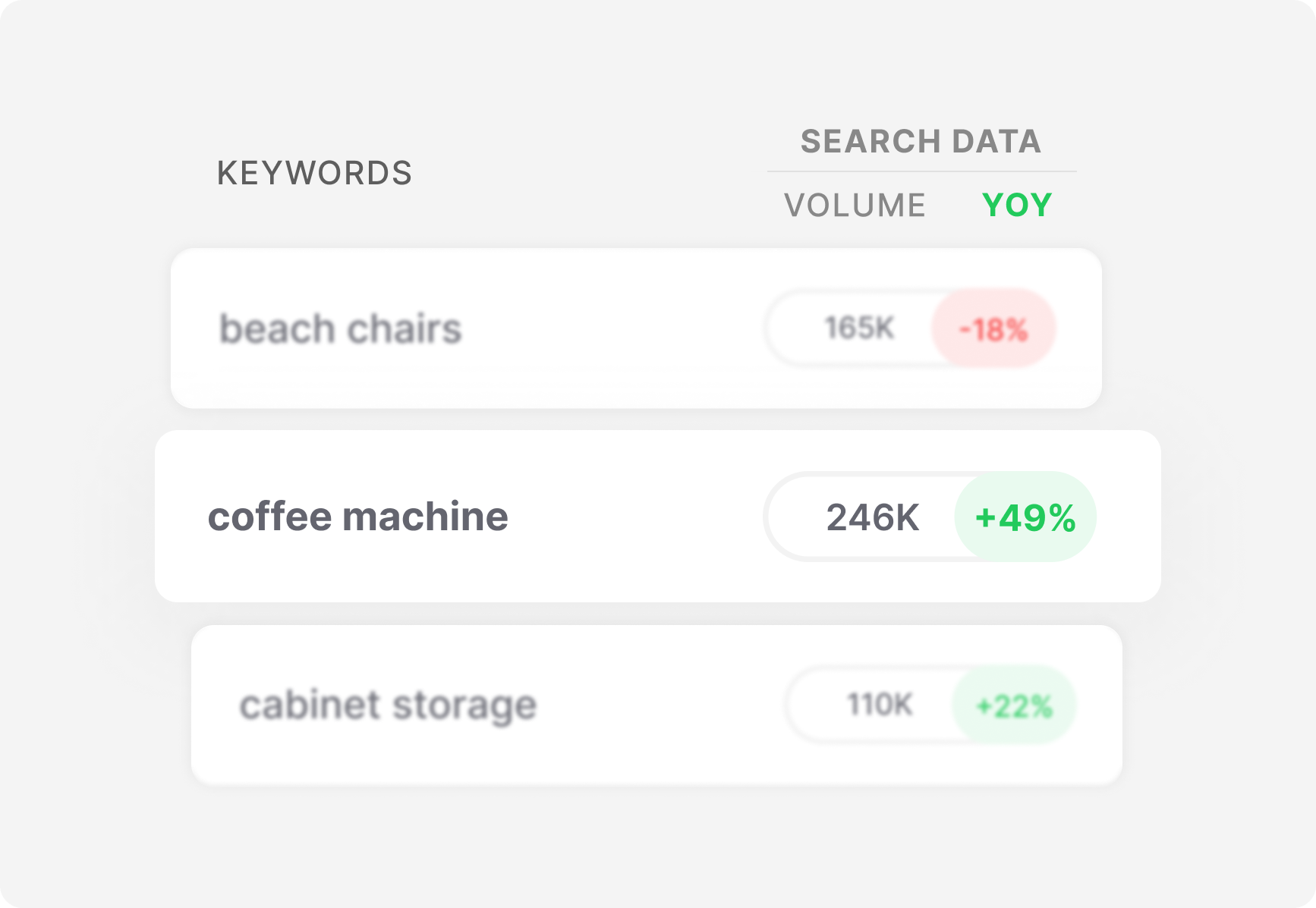 All SERP features. With one metric to sort them all.
Measure the real organic traffic you can impact — beyond the SERP features. The % of clicks on organic results, calculated for the SERP features mix on each device, highlights how many searches remain for you to leverage. So you stay ahead of the CTR curve.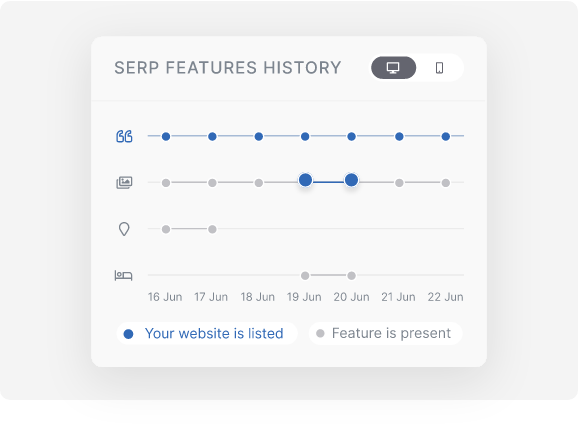 A Visibility metric like no other.
An accurate overview of a keywords group's performance in Google — in one consistent metric. Calculated as an impression share, you get it at every level. For organic positions and specific SERP features — Local pack, Top Stories, Featured Snippets. With a powerful explainer to know when and why its trend changed.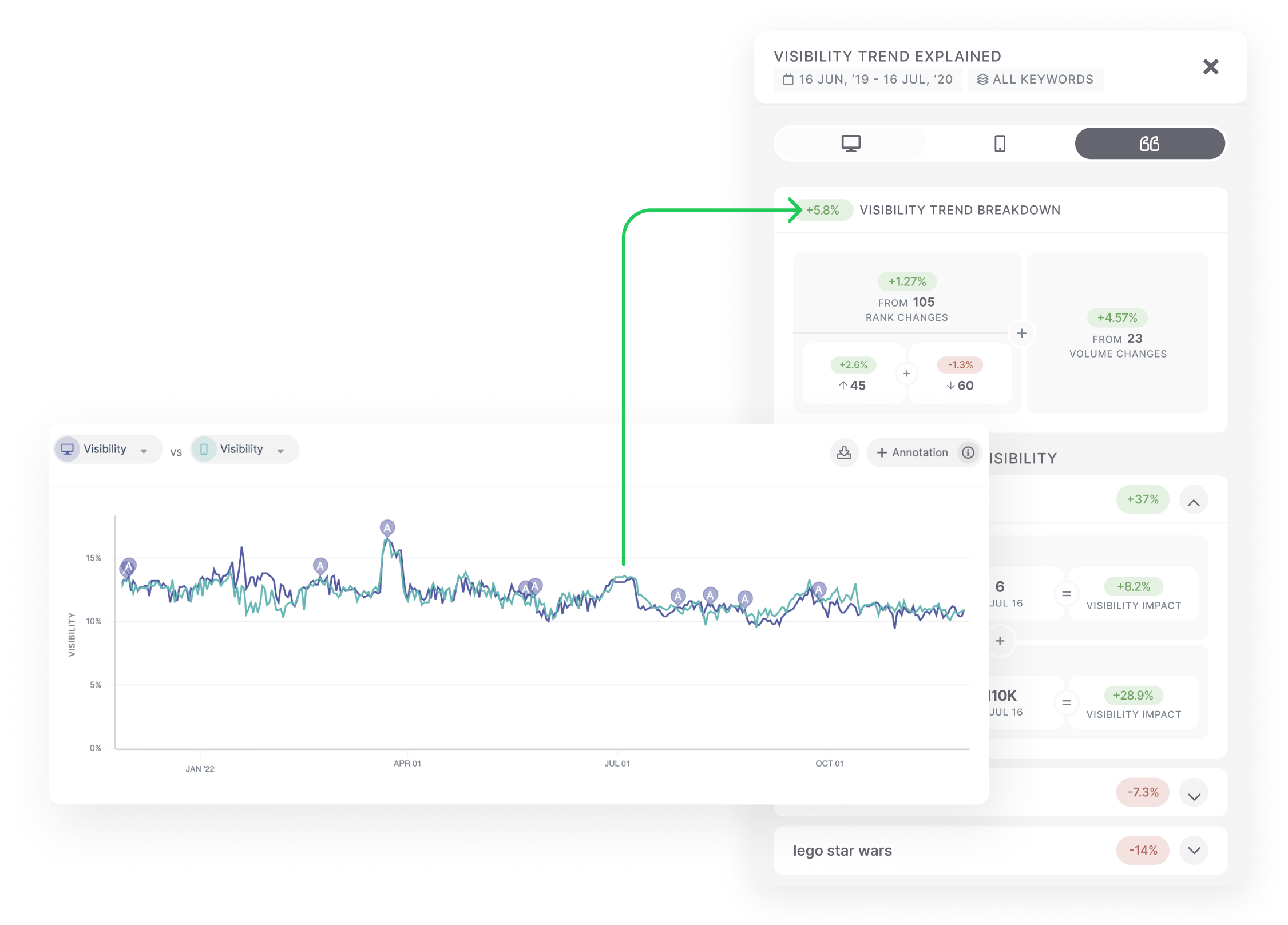 Designed to be proactive.
Use the Keyword Difficulty personalized for your website together with the SEO Opportunity score and uncover what keywords to focus on next. Spot misleading keywords. Fix landing page issues fast.
The Keyword Difficulty metric.
Personalized just for your website, it calculates the topical authority of the most relevant landing page, based on best ranking data, and critical on-page SEO factors.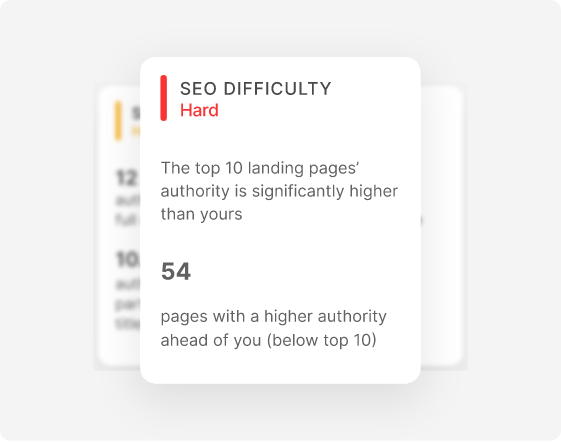 The SEO Opportunity score.
Quickly spot the low-hanging fruit in your keyword list with a reliable Opportunity score. Calculated based on the keyword's search volume and its Year-over-Year trend, the SERP features' impact, plus its current performance, and the difficulty for your website to rank in Top 10. A robust metric designed for faster insights.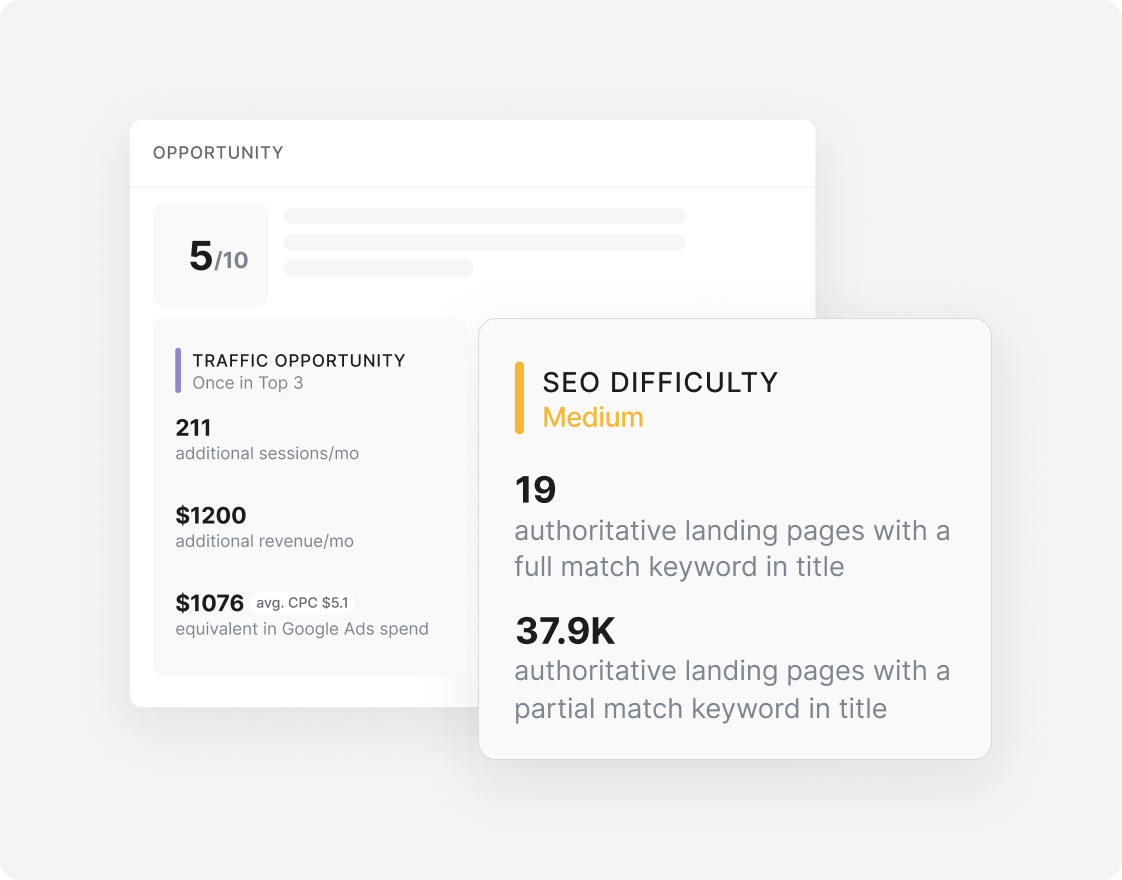 Automatic Labels
The rank tracker automatically detects and labels special keywords: misspellings, brand of others, seasonal, and so on. You easily see which keywords are relevant next and which can be misleading.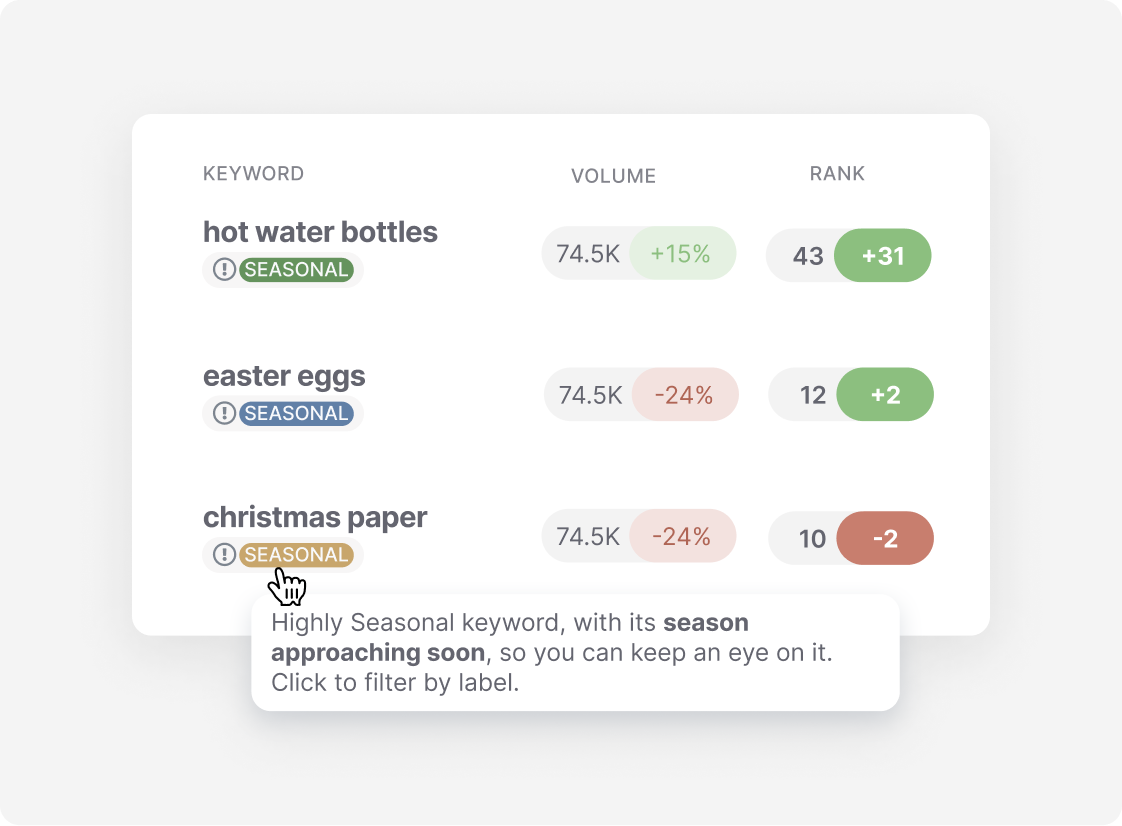 The SEO audit only a rank tracker can do
Connect landing page issues with rank changes. Uncover what cannibalization problems need your attention fast. Track on-page content changes that affect your landing page performance.
Keyword performance overview
Get all the important keyword performance trends in one view. Compare rank changes by device, connect landing page issues, and understand what happened.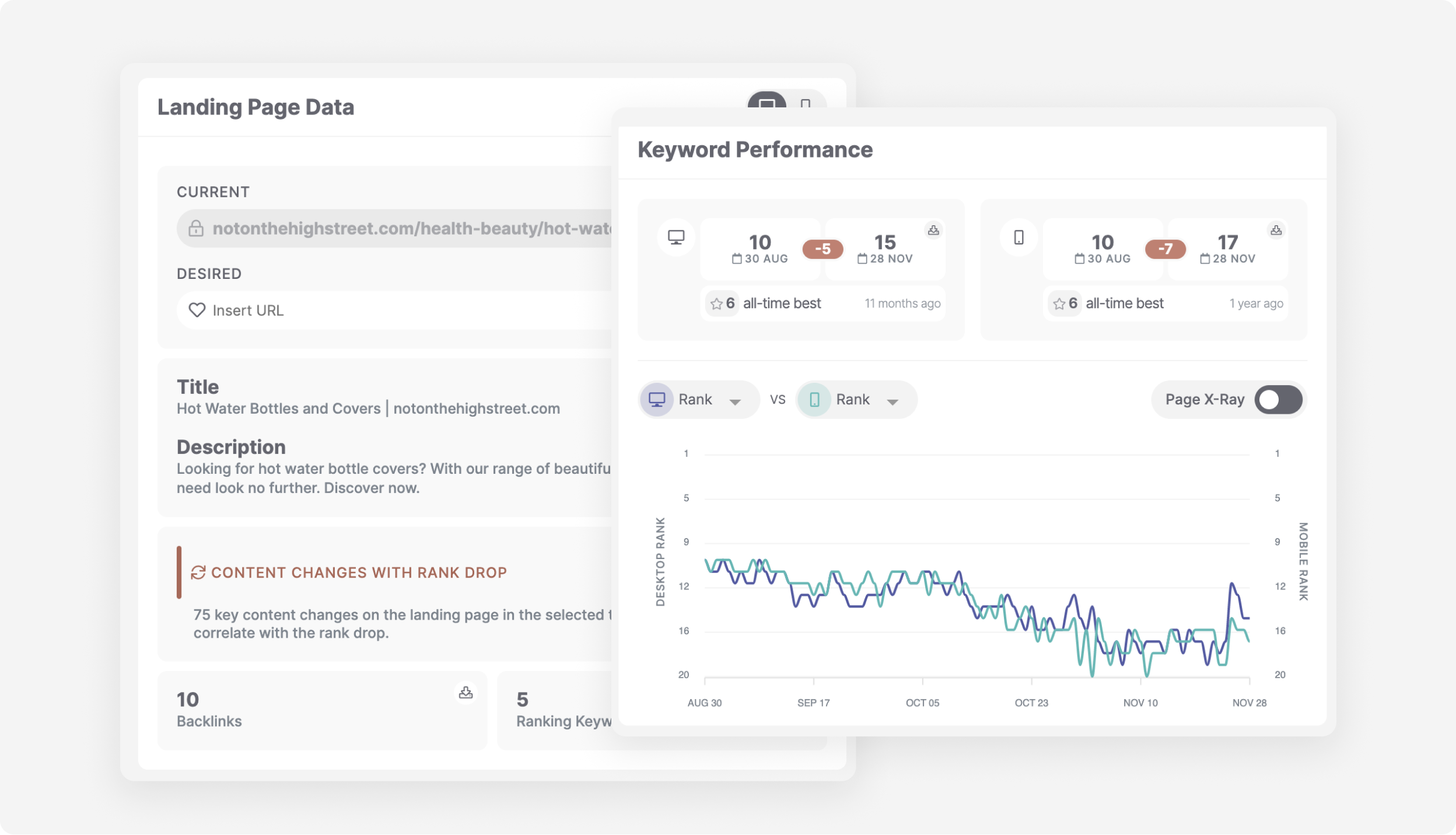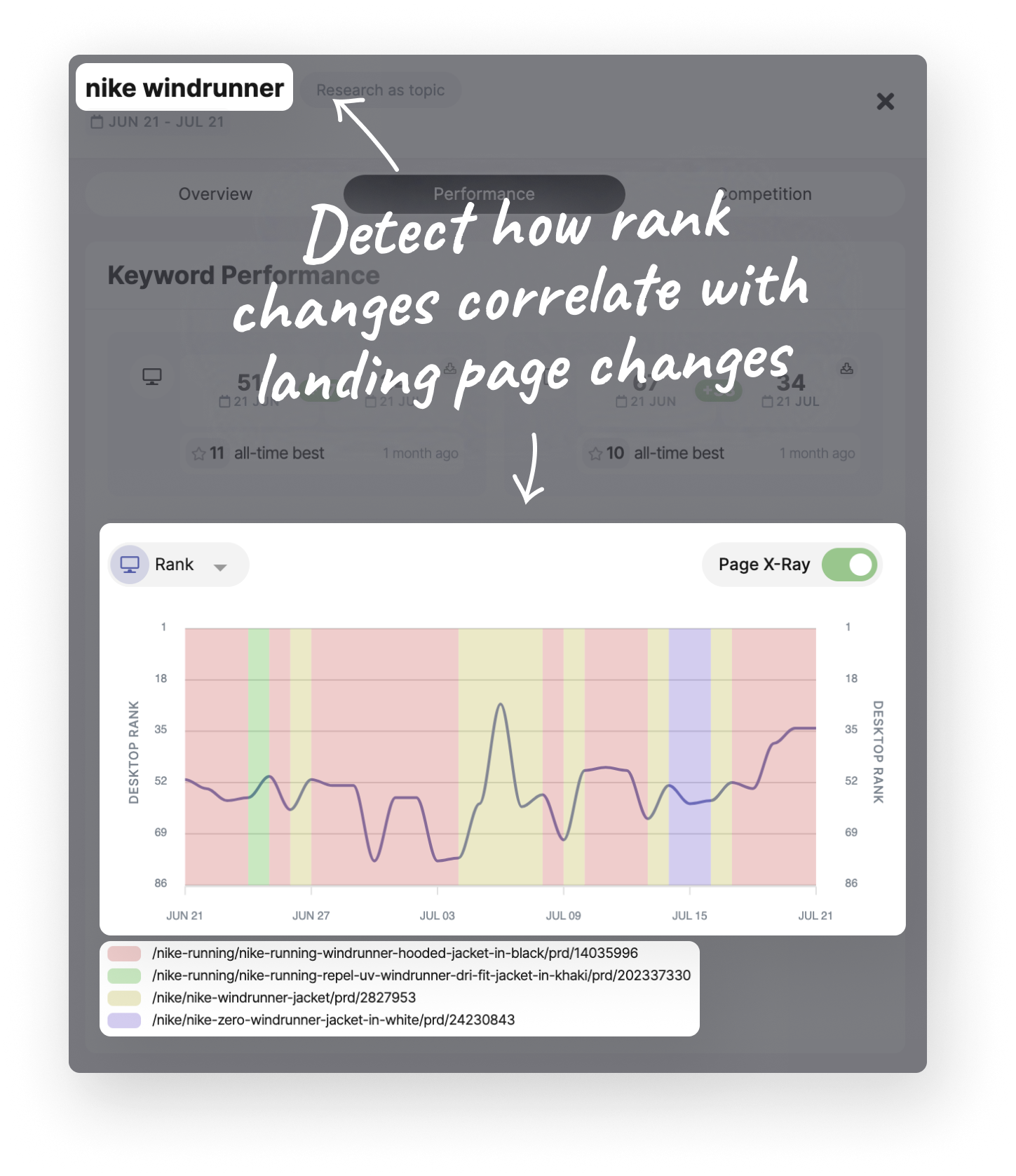 The Page X-Ray
Detect how landing page changes correlate with rank changes for each targeted keyword. Easily visualize every change with our powerful graph, for each device.
Landing page issues detection
Discover key landing page issues, fast. From cannibalization issues to missing relevant pages for targeted keywords, you'll know where the problem is.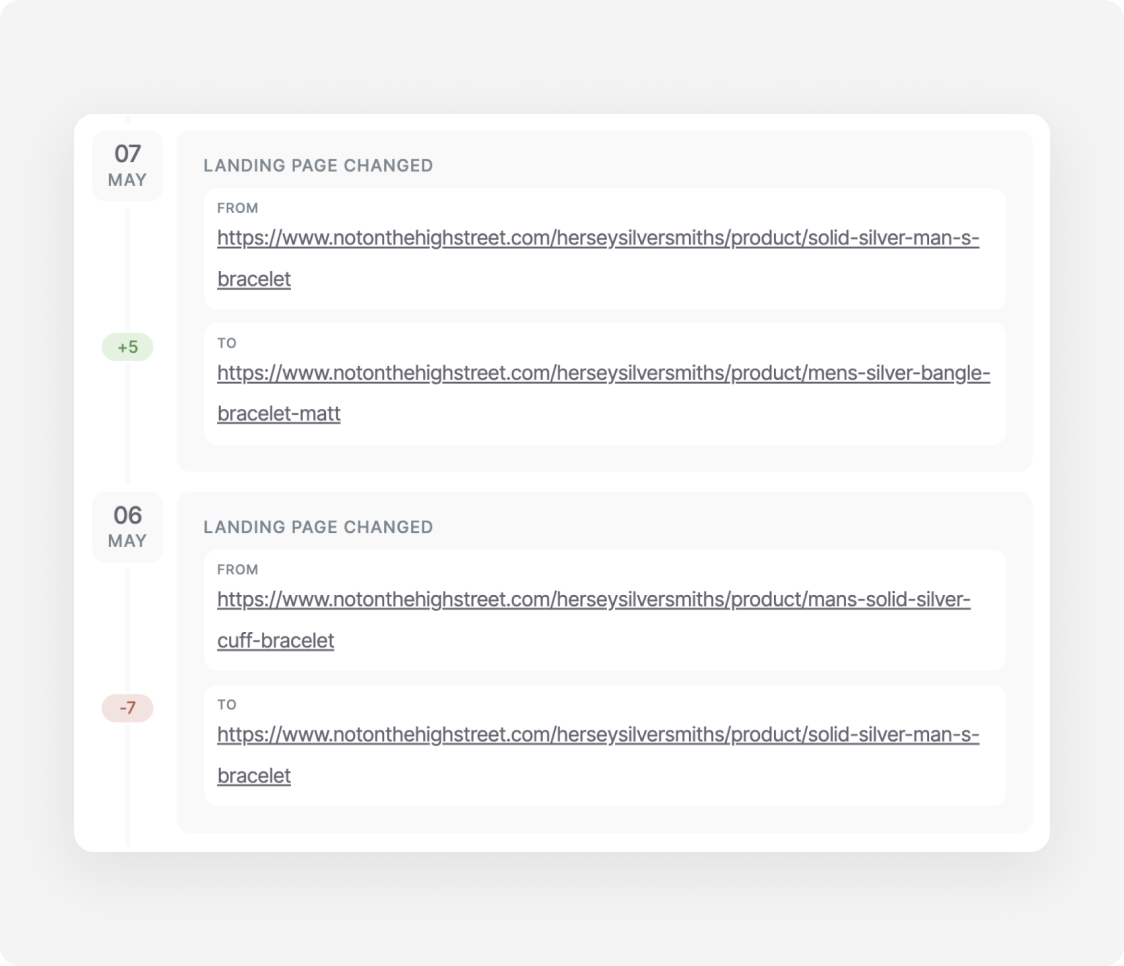 Landing page content changes
Correlate content changes on your landing page with your ranking performance. We crawl your website every time a tracked keyword's associated rank shifts, so you get to see if the titles, H1, or other headings have changed. Know how each keyword's presence on your landing page evolves and when it's time to act.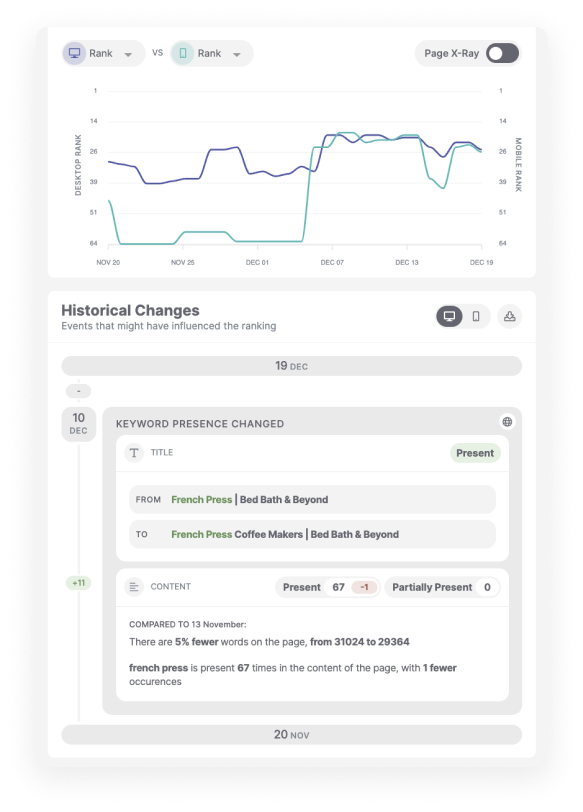 All competitors tracked. For you to analyze.
Use the Competition view to analyze any of your competitors — we track them all from day 1. Assess keyword groups, see what's overlapping, compare your Visibility, and more.
Share of clicks
Easily assess how your website's search potential compares to other targeted competitors in the market. Discover the percentage of average monthly clicks estimated for each analyzed website on your targeted keyword group and understand what's the size of the opportunity.
Top competitors by Visibility
Discover top competitors by Visibility for all your tracked keywords or specific keyword groups. We automatically identify all of them from the start. You choose the ones you want to focus on.
Competitor trends
See how you fare against your chosen competitors. Check Visibility, compare specific groups, or discover new overlapping and non-overlapping keywords. Go more granular and see competitor ranking trends at a keyword level.
Smart keyword management.
Choose the rank tracker view you need for your next action. Set advanced filters to organize your keyword portfolio with both SEO and business logic in mind. Enter Edit mode for a faster keyword management.
Smart keyword Groups
Powered by our Advanced Filters, Smart Groups help you segment your keywords efficiently based on any criteria you need. They automatically populate and refresh daily. So you have all the groups you need for better insights.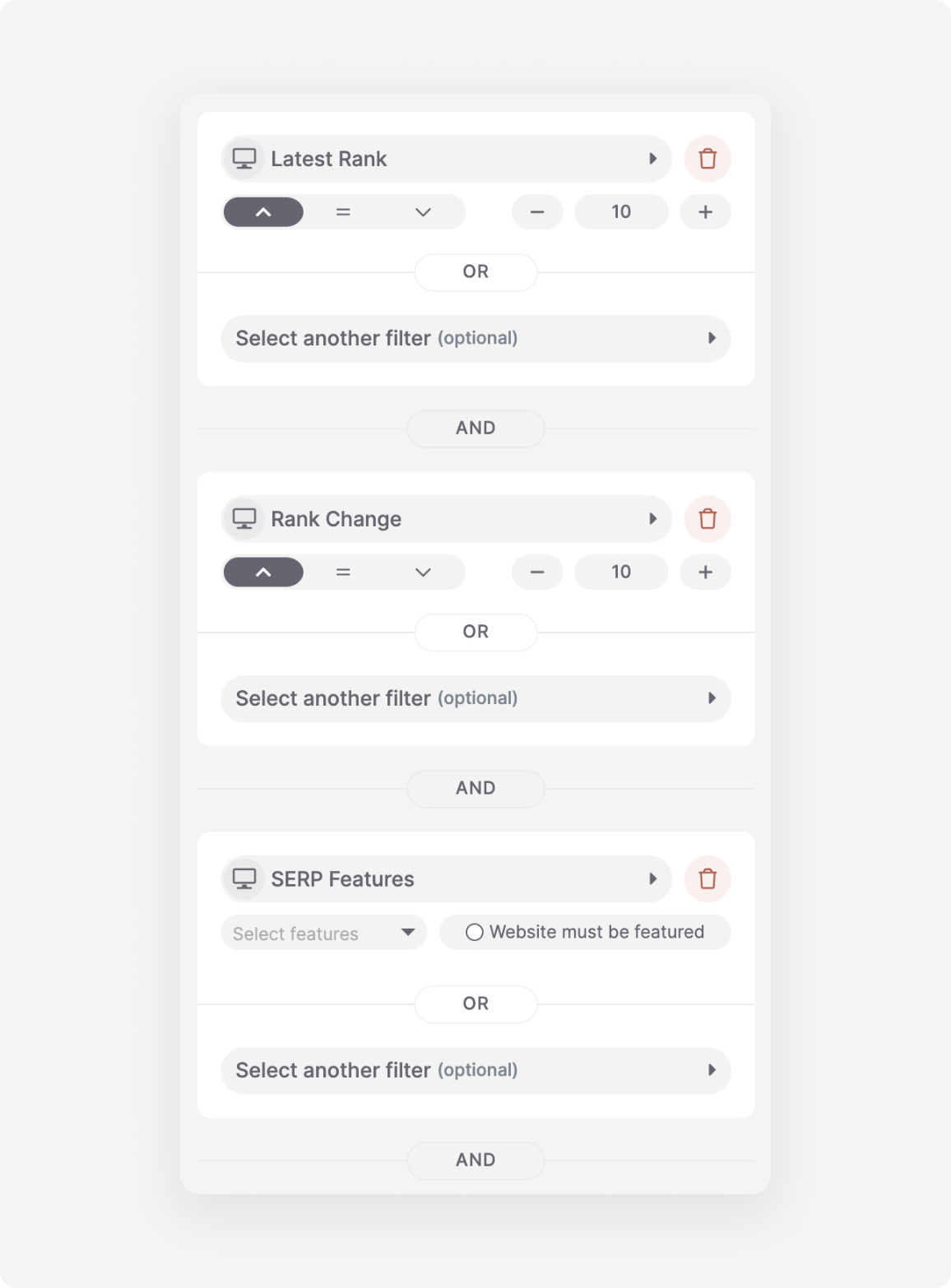 Advanced filters
Filter the Rank Tracker's data any way you need to. With Advanced Filters, you get unlimited mixes of criteria and logical operators. Segment them as much as you want, save them in Smart Groups for automated updates.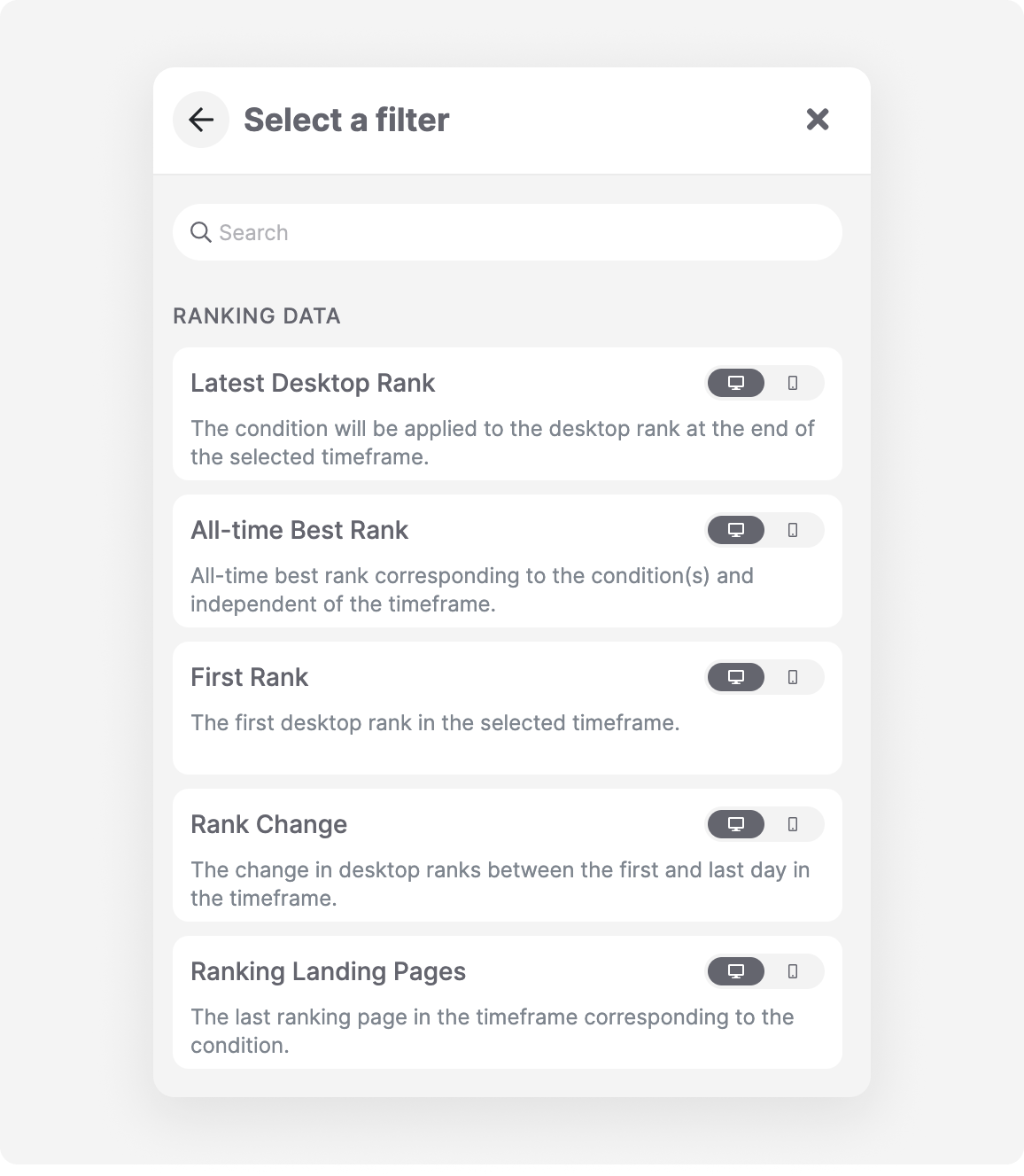 Quick filters
Explore keyword and landing page issues with our predefined quick filters. Be proactive in spotting errors and fix them before they affect your campaign's performance.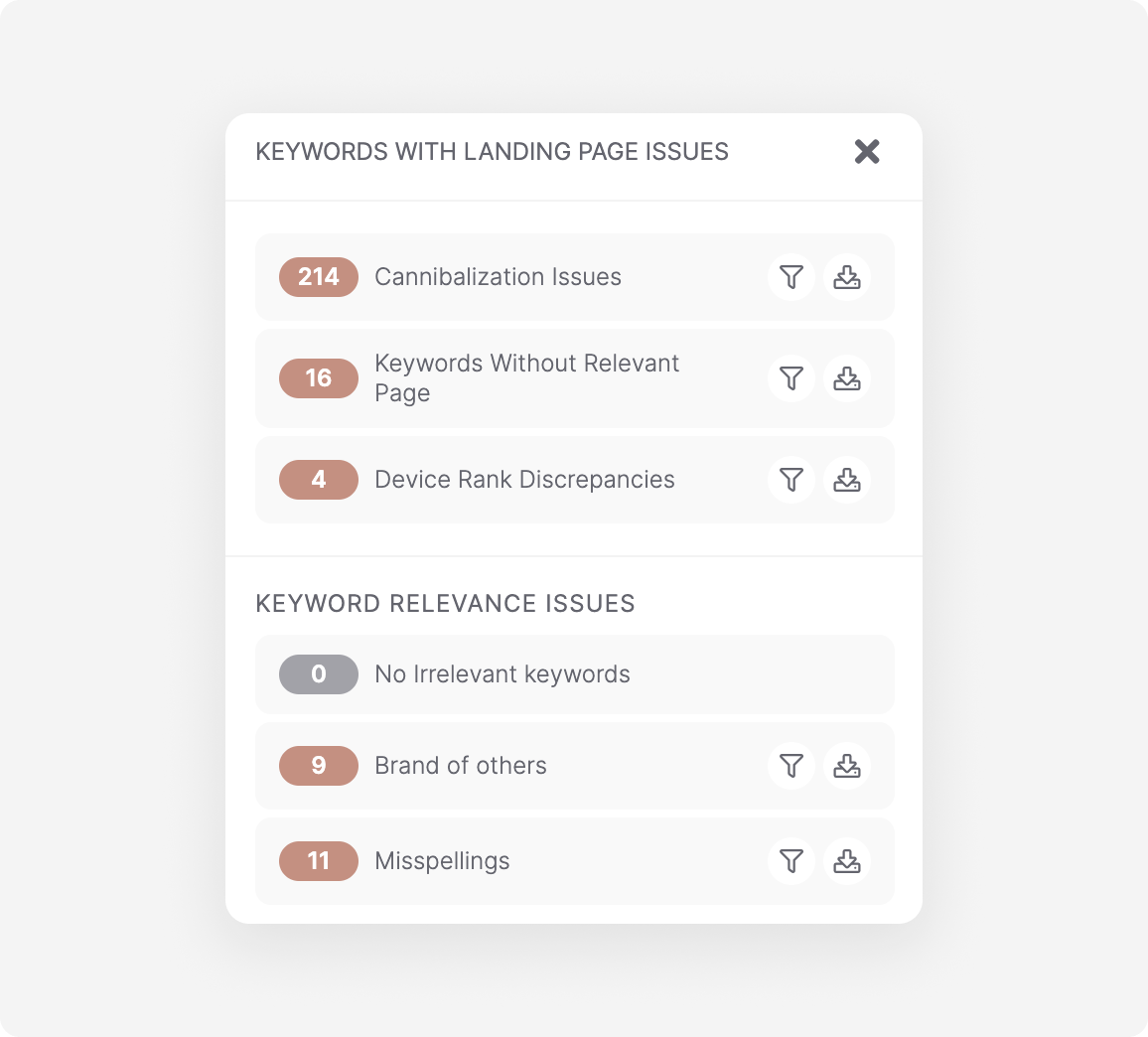 Folders. Groups. Labels.
With 3 levels of keyword grouping, get the granularity you need to organise every campaign. Define folders with nested groups, apply custom labels for specific products and services — map your keyword list to match your objectives.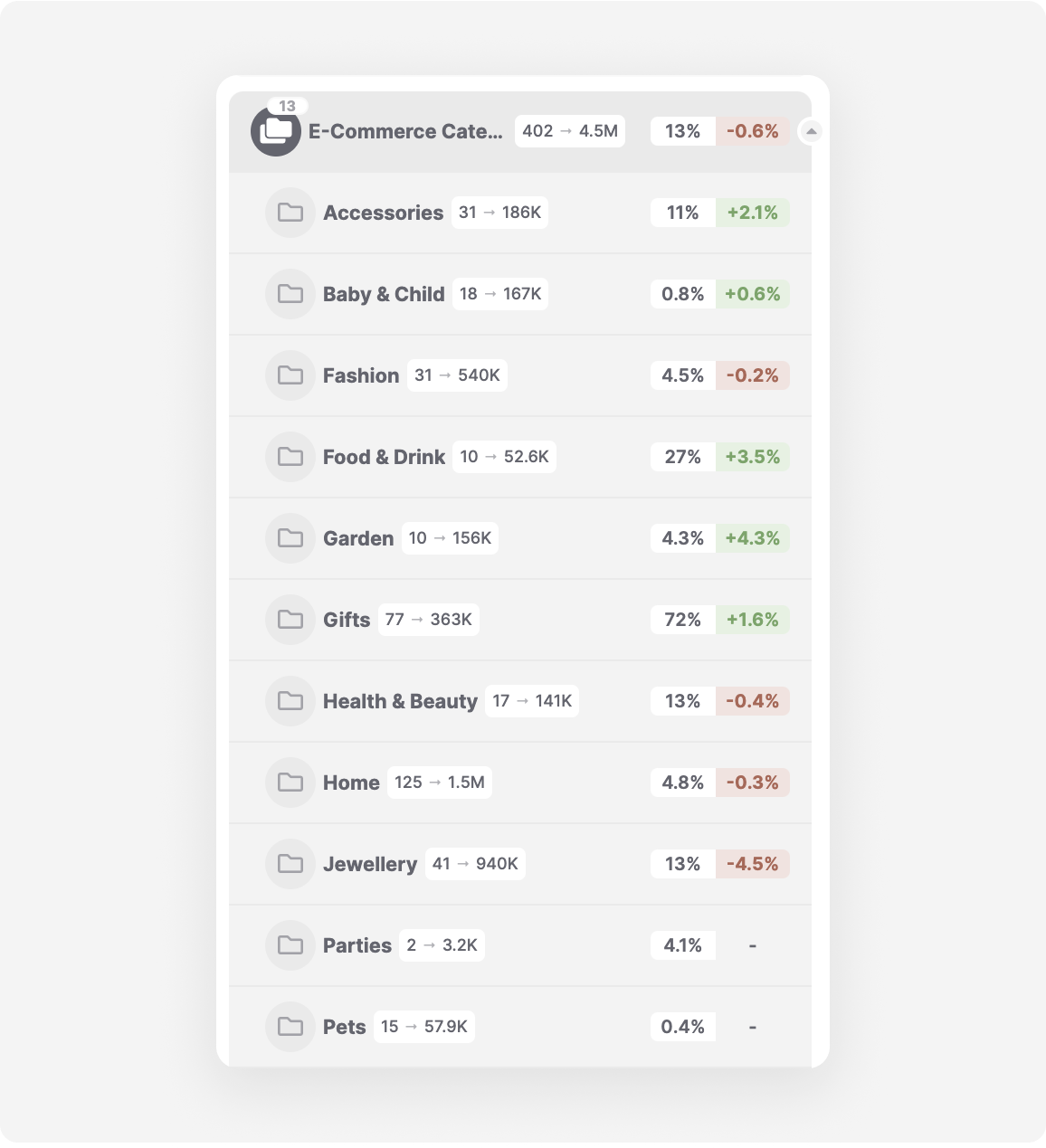 Full access. Full control of your data
Get unlimited users, API access, and exports through CSV, Looker Studio and Sheets. At no extra cost.
Unlimited API access
Access your data without any limit. Make as many programmatic requests as you need to.
Data Studio & Sheets
Create consolidated reports in Looker Studio (Data Studio). Pull formatted data in Google Sheets through the dedicated add-ons.
Unlimited Users
Create as many users as you need. Invite your clients with read-only access. At no extra cost per user.