Spare time and resources, not SEO opportunities with the new Research tools.
SEOmonitor launches two new Research tools, designed to help you better navigate keyword opportunities.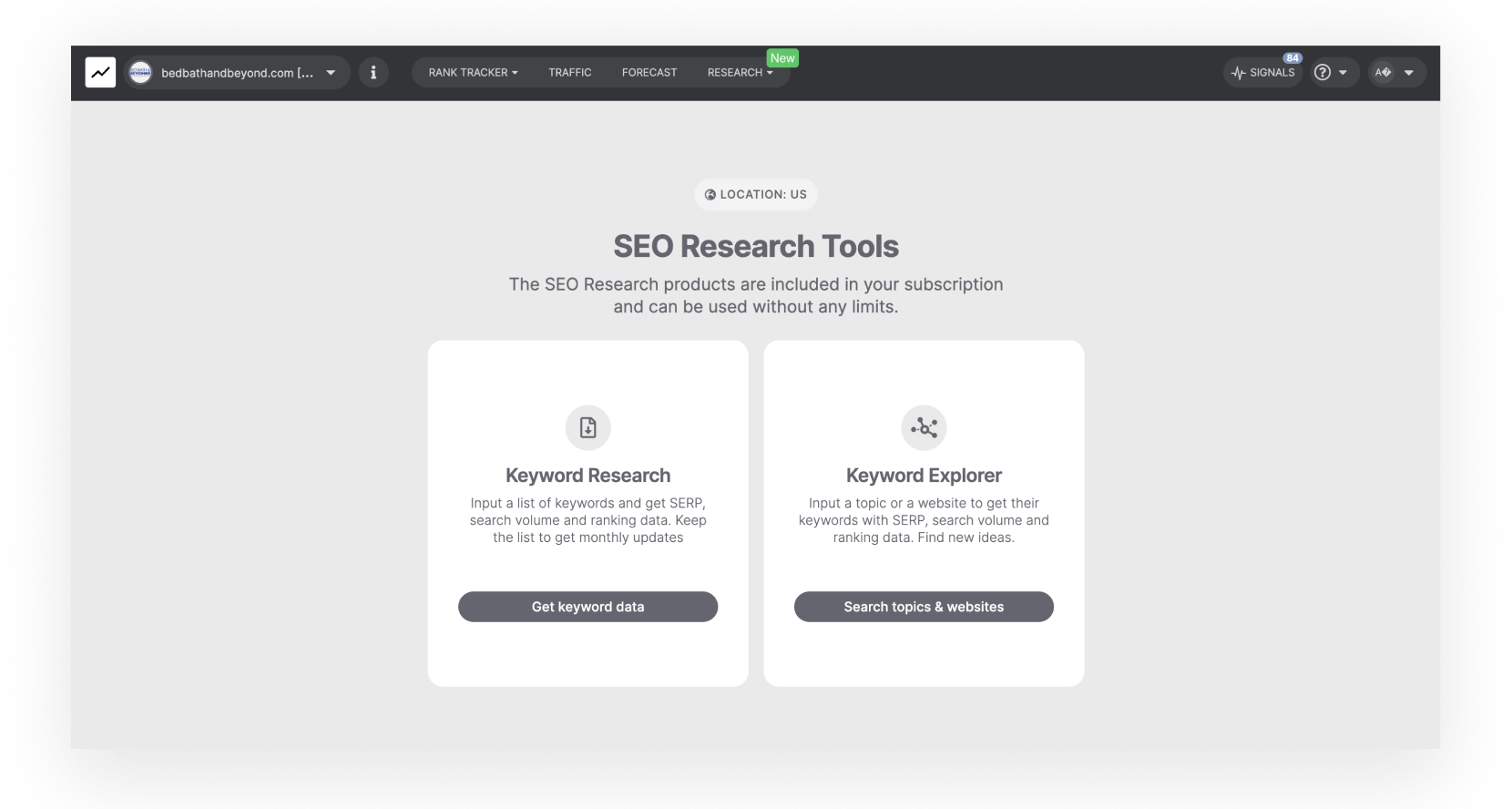 Both of them come at no extra cost – regardless of the subscription – and they're unrestricted: no capping on keyword queries, API, or downloads. Integrated with the Rank Tracker, so you can easily start tracking new keywords in your campaign.
Let's take them one by one.
Keyword Research
SEOmonitor's new Keyword Research tool helps you evaluate unlimited amounts of keywords. You can bring as many keyword lists as you need for your next SEO strategy.
Unlimited keyword data
Upload your csv or manually input the keywords—they'll quickly get populated with the regular SEOmonitor Rank Tracker data.
Keyword Research enables you to:
Assess the quality and quantity of your keywords with search volumes and YoY trends, SERP features presence & the percentage of clicks on organic results, and ranks & their trends.
Close the keyword gap by analyzing your Competition and your overlapping terms.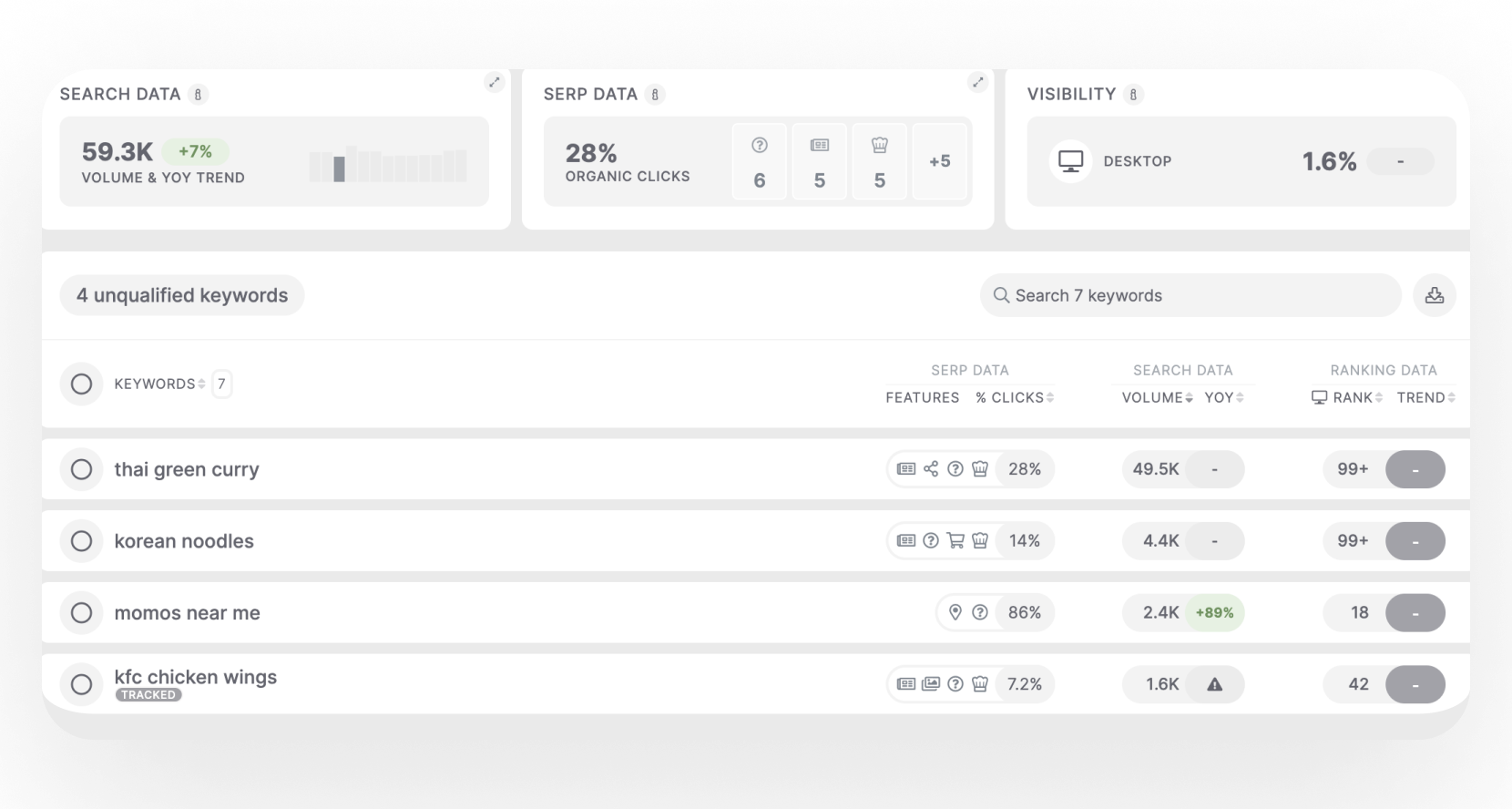 Because we need to ensure we don't create waste or extra noise for you, we have a keyword qualification process. We only qualify non-branded keywords with Search Volumes higher than 30, and we aggregate close variations. So you avoid working through clutter. 
Monthly ranking data included
We're updating your keyword ranking data monthly. So that you can continue your keyword analysis without having it deprecated. When you decide what keywords you want to focus on, quickly transfer them to the Rank Tracker and track their performance with daily updates.
Keyword Explorer
Through the Keyword Explorer* interface, you can perform three types of research. Explore new keyword opportunities by topical relevance, domain, or URL. Uncover advantageous gaps in your competitors' landscape. All through a carefully curated database, with no restrictions.
Topic Research
Input a keyword, and you get the curated list of topic-related keywords. Just the ones that actually make sense. To help you better assess both the quantity and quality of the keywords, you get their key attributes:
Search Data: Search Volume & Year-over-Year trend,
SERP data: SERP features presence & the percentage of clicks on organic results
Ranking data: The rank and its trend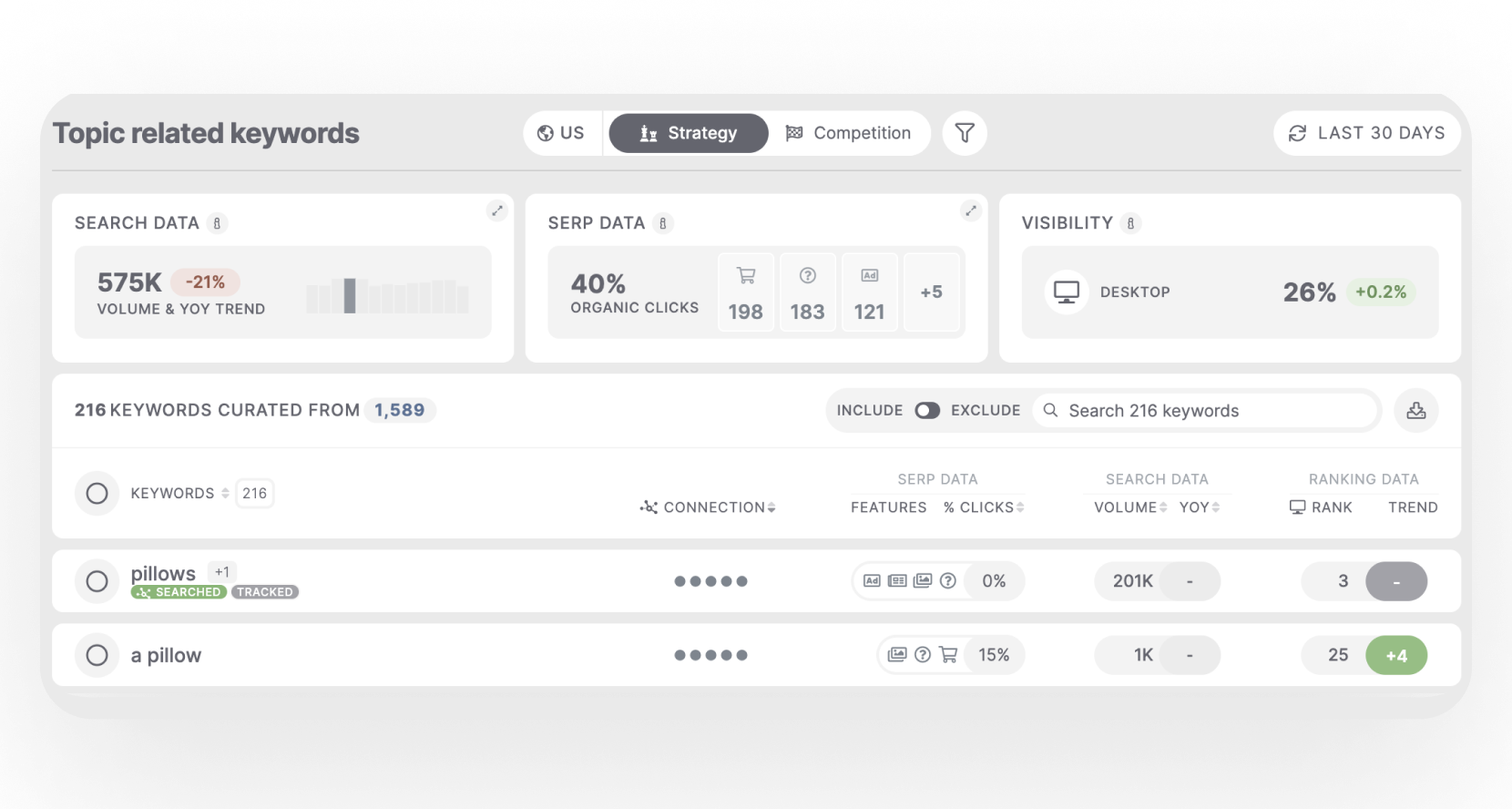 These attributes are further reliably calculated at a keyword list level, so you get the full picture of your ranking opportunities. Quickly check the connection strength between each related keyword and the topic you searched for, so you can narrow it down as tight as you need to.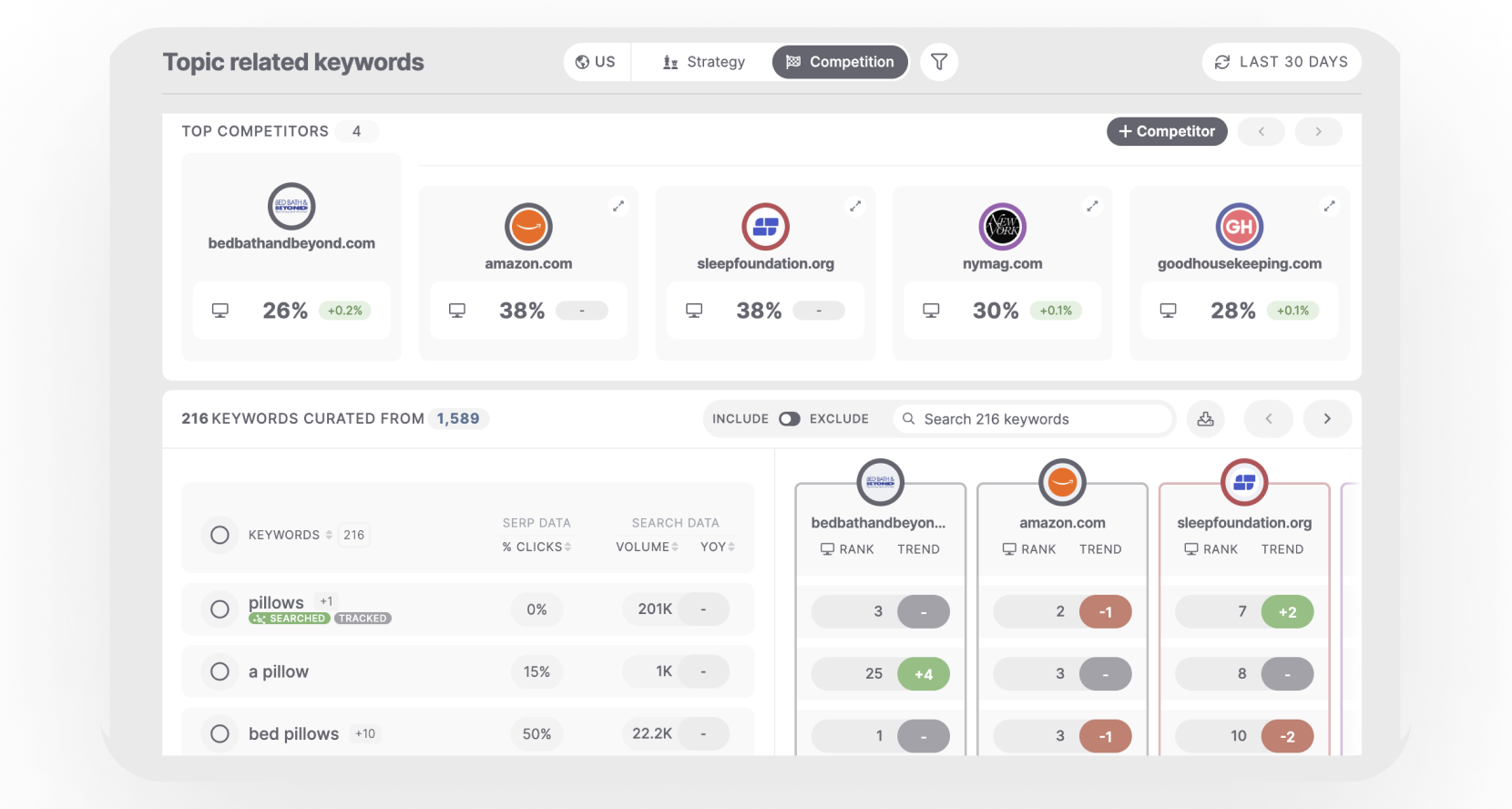 Find out who your competitors are for the entire list of keywords and check on what positions they rank for each keyword.
Transfer the newly discovered keywords to your strategy, in the Rank Tracker. Or simply download all of them.
Domain or URL research
Discover new keyword opportunities based on a website, a specific page or a section of a website. For each keyword, you're able to check your rank & trend against the researched domain's ranking data.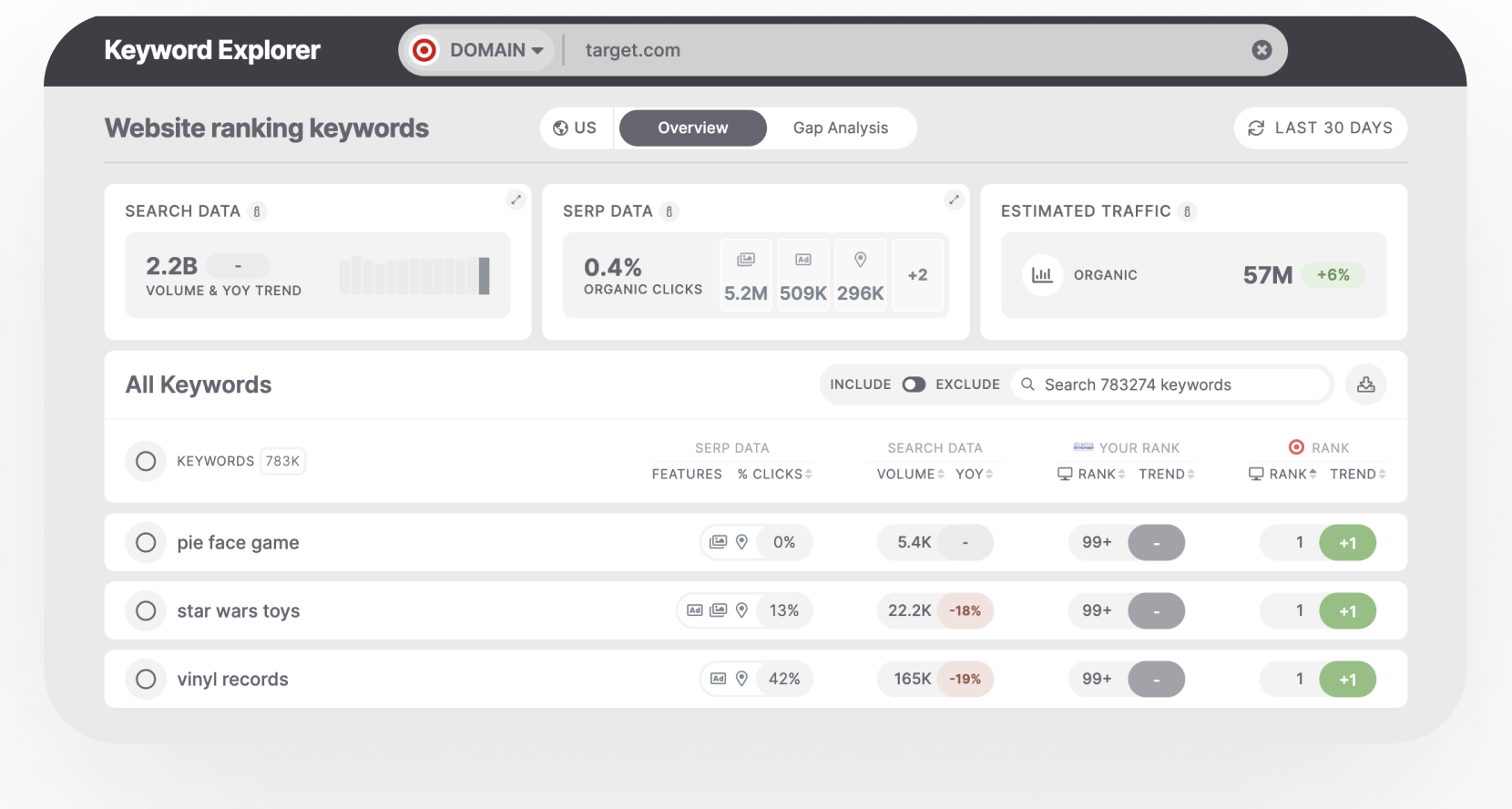 Efficiently evaluate the potential of the ranking keywords with the overall Search Volume & Trends, the position in the SERP features & percentage of clicks on the organic results, and also the estimated organic traffic for the keywords in the list.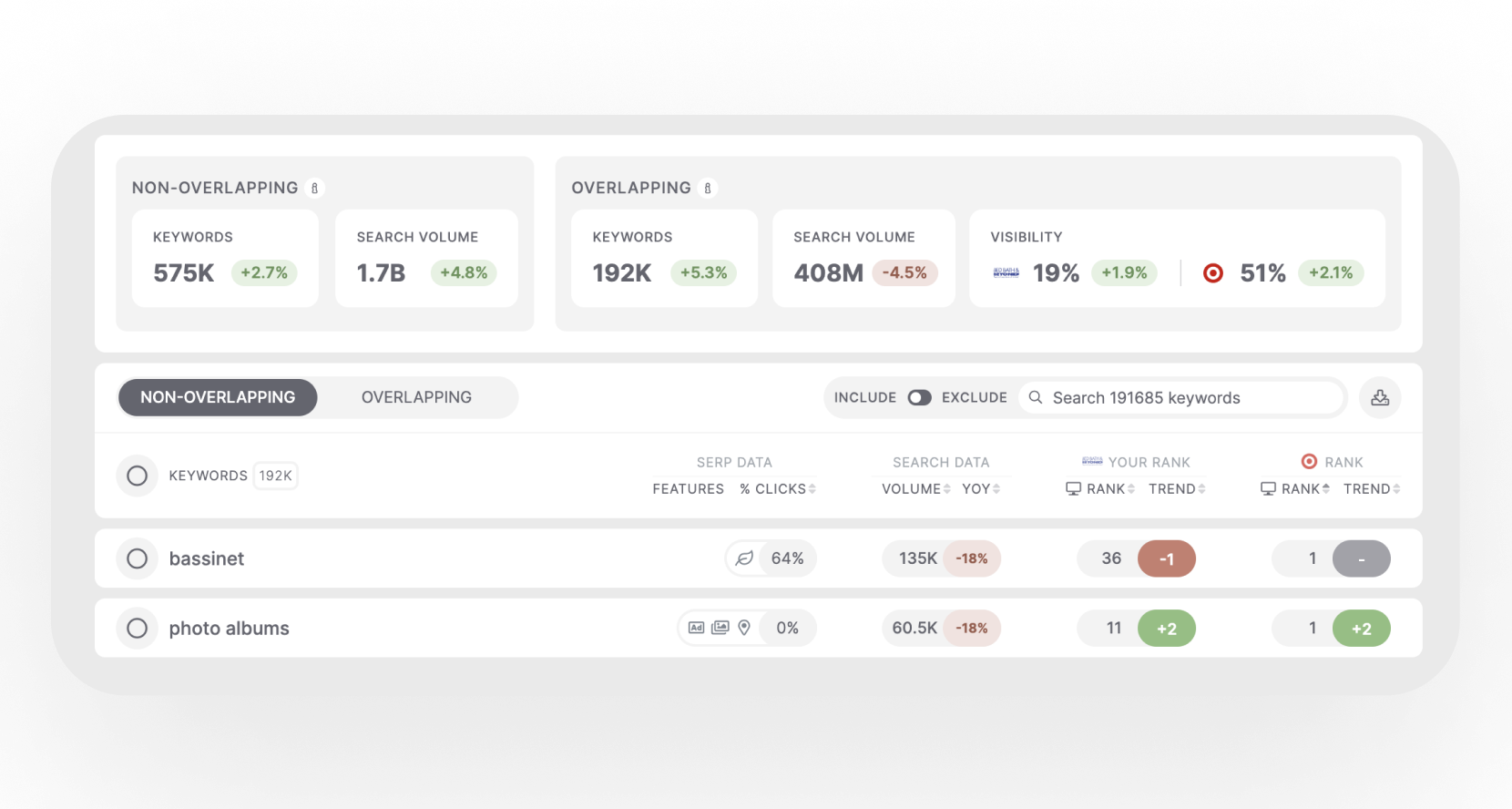 Detect overlapping and non-overlapping keywords with any competitor, together with their SERP, search and rank data. Quickly select & transfer them to your campaign.